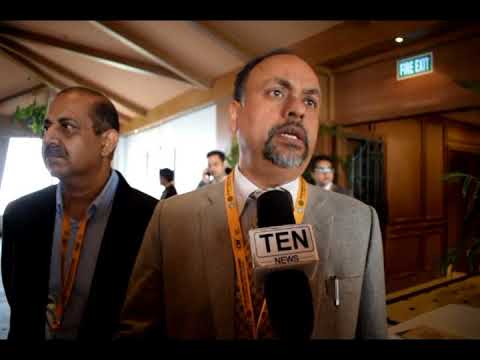 Greater Noida CEO Debasish Panda pitches for technological overhaul – by Gajanan Mali
(24/01/2018) Greater Noida :

First time since his joining I had an opportunity to meet the upright officer who was Principal Secretary (Home) Uttar Pradesh and also had coined the concept of UP 100.
In an informal chat I found that he is an officer with a mission to enhance transparency in GNIDA.
He is very clear on his priorities . But appeared worried a lot over the bitter truth of RS 8000 crore loss.
Greater Noida Authority's CEO Debasish Panda is planning to inculcate different technological tools to make working of authority more transparent as well as streamlined.
A 1987 batch Indian Administrative Service officer Debasish Panda is also serving as Resident Commissioner of Uttar Pradesh in Delhi apart from being Chief Executive Officer of Greater Noida Authority. His one leg remains in Delhi, half in Gr Noida and remaining half in Lucknow.
Not much known for speaking out in public or to the press for that matter of fact, Mr. Panda wishes to stay low profile and do constructive work during his tenure at Greater Noida Authority.
It is his brainchild to adopt ERP (Enterprise Resource Planning) software to regulate and stream line the overall functionality of Greater Noida Authority. The process for selection of ERP vendor has already begin and it is being expected that sooner than later the installation may begin in Greater Noida Authority.
After implementation of the ERP software all different stakeholders would be able to retrieve different relevant information without any delay through electronic mediums.
Since after Debasish Panda took charge of Greater Noida authority in May 2017, it has been his focus to resolve different deadlocks created in past. Be it builder buyer issue or the farmers compensatation grievances, Debasish Panda has displayed a firm grit and resolute to deal with their issues. His words minced retort to builder community and strict warnings to builders have raised the hope of Greater Noida buyers.
Debasish Panda is also exploring the idea of developing a smart mobile app for to provide day to day services related to the Authority. However nothing has been finalized in this context and it is still in very nascent stage.
From the conversation it appeared that CEO is not very happy with his subordinate's and juniors . It is learnt that at times he has displayed extreme displeasure over the laid back style of working of many.
Another major concern to him was that no major Industry has come to Gr Noida over a period of a decade. In view of Airport and Metro projects becoming a reality he wishes to bring more labour intensive industries here. Why people should go to work in Gurgaon ? Was his question to me .
Panda appeared to be overwhelmed by the working style of incumbent government that has created new hopes, new dimensions and new thoughts .
Let us hope this man with mission. Adds new feather in GNIDA's cap !