Greater Noida: Two arrested at Yamuna Expressway Highway for looting 600 Kg Of Jewelry!
ROHIT SHARMA / SAURABH KUMAR
Greater Noida: Today Greater Noida police had arrested two criminals regarding the jewelry loot incident took place at Yamuna expressway on 4 April. In the incident around 600kg of jewelry was looted when the jewelery was been taken to Indira Gandhi Airport, Delhi for delivery.
Police caught the Accused when they were on their way to sell out the rest of the silver jewelry commuting through Yamuna Expressway over a motorcycle. Police alerted the Rabpura Police party over the phone and the cordoned the area. Around 1:10 pm police arrested both the accused around meters towards Jewar side from Rabpura border.
Both the accused are identified as Areef and Nadeem a resident of Delhi. Police had recovered two countries made gun of .32bor and .315 bore and 4 live cartridges, 15 kg silver jewelry and a motorcycle from them. They also had a criminal history in past also.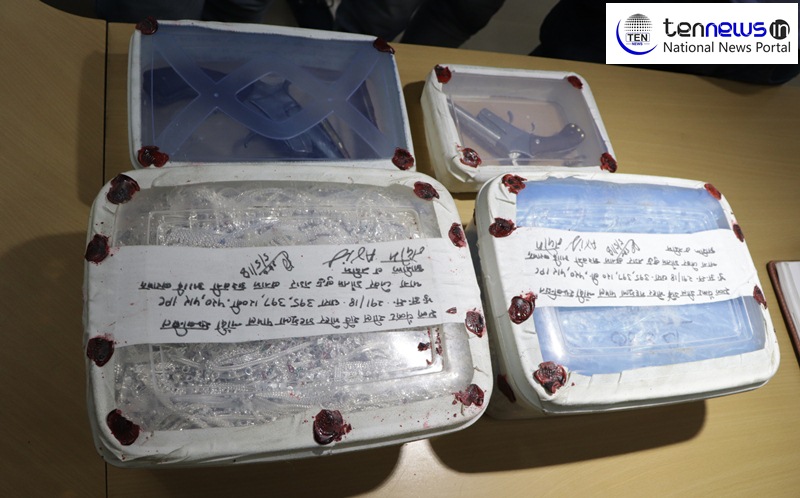 SP Rural, Suniti, told that "Both the accused are present in the Innova car which was used during the loot. Arif has a business of wooden handicraft while Nadeem who is not a member of the gang but at the day of incident he was involved in the crime as he was lured of 3 to 4 lakh rupees. He used to work as an electrician.
Further she told "we have already arrested seven accused in this case and around 95% of recovery is been done. In the earlier arrest we had recovered a blue beacon, a police uniform, and fake number plate which indicates it's a much planed incident so we have still some suspects on our radar that may be the master mind behind this loot soon we will be able to arrest them."