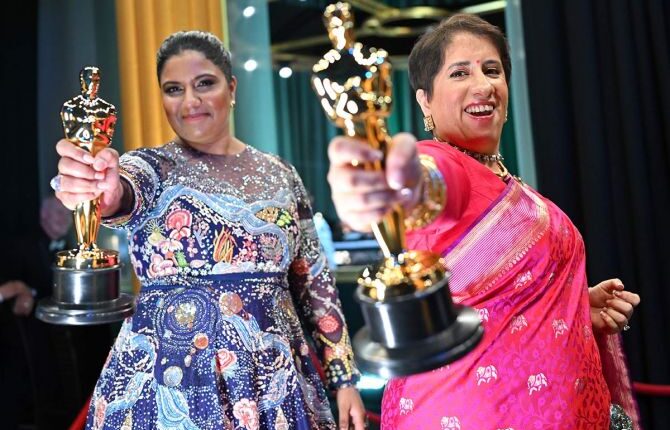 Guneet Monga's The Elephant Whispers wins Oscar for Best Documentary
Ten News Network
New Delhi (India), 13th March 2023: India had a terrific night at the Oscars 2023. Along with 'Naatu Naatu', Netflix's "The Elephant Whisperer" by Kartiki Gonsalves and Guneet Monga won in the Best Documentary Short Film category at the 95th Academy Awards and India received its first Oscar for 2023. The filmmaker continued by expressing gratitude to the Academy, producer Guneet Monga, her family, and her "motherland India" for the honour.

Gonsalves delivered her acceptance speech and said, "I stand here today to speak for the sacred bond between us and our natural world, for the respect of indigenous communities, and empathy towards other living beings we share space with and finally, for coexistence,"
While adorning a beautiful saree she added in her speech, "Thank you to the Academy for recognising our film, highlighting indigenous people and animals.. To Netflix for believing in the power of this… To Bomman and Belli for sharing their sacred tribal wisdom to Guneet, my producer…My mentor and my entire team and finally, to my mother, father and sister who are up there somewhere and you are the centre of my universe, to my motherland India,"
Other nominees in the category were Haulout, How Do You Measure a Year?, The Martha Mitchell Effect, Stranger at the Gate. But 'The Elephant Whispers' beat them and all with its stunning and mesmerising visuals from the Indian state of Tamil Nadu and the display of a loving bond between humanity and nature.