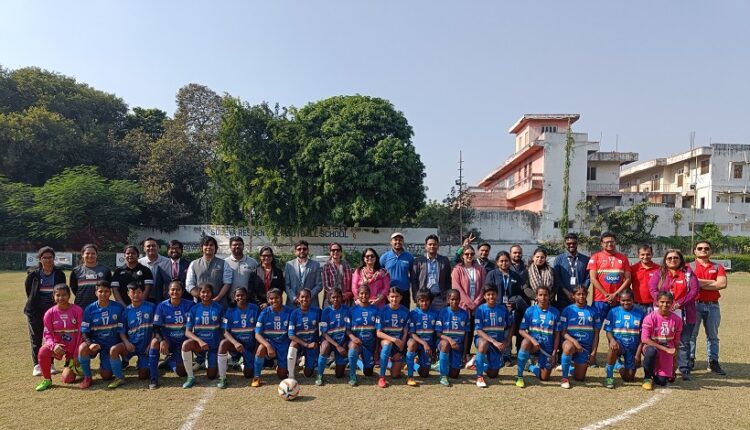 HCL Foundation Launches Sudeva Residential Football Program

HCL Foundation (HCLF), the corporate social responsibility (CSR) arm of leading global IT company HCLTech, has launched 'Sudeva Residential Football Program' in partnership with Sudeva FC, a Delhi-based professional football club.
The program takes forward HCL Foundation's 'Sports for Change' initiative, aimed at promoting sports as a holistic development for underserved children in rural and urban areas.
With the support of HCL Foundation, Sudeva FC coaches have identified 20 girls and 11 boys who have the potential to represent Indian women's and men's national teams.
The launch event for HCL Foundation's elite athletes was held on November 24, 2022, at Sudeva FC, Delhi in the presence of the Dr, Nidhi Pundhir, Vice President and Director, HCL Foundation and Mr. Gaurav Saini, Vice President, HCLTech.
The 'Sports for Change' initiative was launched in 2017 to empower underprivileged children from rural and urban communities to excel in a sport of their choice, providing a level playing field to children from all walks of life.
Till date, the initiative has reached over 27,000 athletes, while 115 sports scholars have been supported through scholarships. Around 89 students got admitted into reputed colleges through sports quota while 104 students got the opportunity to participate in state and national level competitions.
Sudeva FC was started in 2014 with the ultimate vision of promoting football in India. The Sudeva Football Academy has been one of the leading residential training academies in India since 2015. Sudeva runs grassroots programs for over 140 talented young players from 27 states, starting from the age of 9 to the senior level.
HCL Foundation's 'Sports for Change' initiative was launched in 2017, which marked the start of the Foundation's journey to promote sports as a part of holistic education. These efforts help nurture talented children from underserved rural and urban communities across various sports categories. HCL Foundation believes in providing an equal opportunity platform to all children. Sports is an integral part of their holistic development. Professional coaching and mentoring play an important role in refining their talent and preparing them for state, national and international levels. Close to 27,000 children have benefited through this program and 115 students have been with sports scholarships under the Power of One program of HCL Foundation.
HCL Foundation (HCLF) was established in 2011 as the CSR arm of HCL Technologies. It is a not for-profit- organization that strives to contribute towards national and international development goals, bringing about lasting positive impact in the lives of people, through long term sustainable programs. The foundation aims to alleviate poverty and achieve inclusive growth and development. Active community engagement ensures optimal long-term gains and upward accountability. HCL Foundation works through Life Cycle Based, Integrated Community Development Approach with thematic focus on Education, Health, Skill Development & Livelihood, Environment and Disaster Risk Reduction & Response. Child protective strategies, inclusion and gender transformative approaches remain central in all initiatives of HCL Foundation, thus ensuring comprehensive development. Presently HCL Foundation is implementing five flagship programs, namely HCL Samuday & HCL Grant – Rural Development programs; HCL Uday & Clean Noida – Urban Development programs; HCL Harit (The Green Initiative) – Environment Action program and 4 special initiatives – Power of One, Sports for Change, HCL Foundation Academy and My E-Haat.