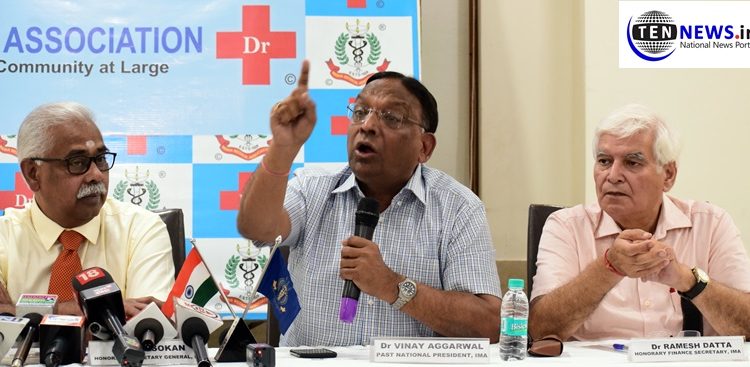 Hospitals should be declared as Safe Zones: IMA
Prerit Chauhan (Photo-Video) Lokesh Goswami Tennews New Delhi :
New Delhi: Amidst the recent violent incidence against doctors in Kolkatta, Indian Medical Association (IMA) demands for a comprehensive Central law dealing with violence on Doctors, Healthcare Staff and Hospitals. Effective implementation of Law has to be ensured by incorporating suitable clauses.
In demand of justice and implementation of the Central Law for violence against the medical fraternity, IMA will be carrying out a Nation-wide strike for 24 hours on Monday. All non essential services including OPDs will be withdrawn for 24 hours from 6:00 am on Monday, 17th June, 2019 to 6:00 am next day. All emergency and casualty services will continue to function normally. All Healthcare Institutions and Doctors across the sectors will participate.
Dr RV Asokan, Hony, Secretary General, IMA Addressing the Media said,
"19 States have already passed legislations in this regard. An Interministerial Committee recommendations document was signed by IMA with Government of India way back in 2016. Suitable amendments should be brought in IPC and CrPC and Hospitals should be declared as "Safe Zones". Security measures and the determinants leading on to violence should also be addressed. Exemplary punishment of perpetrators of violence should be a component of the Central Law. Structured safety measures including 3-layer security, CCTVs and restriction of entry of visitors should be well defined and enforced uniformly across the country in all sectors."
The situation in West Bengal is still grave and fear of violence is present in all the medical colleges and major hospitals. The current issue of violence following the attack on young Resident Dr. Paribaha Mukherjee in West Bengal has been allowed to deteriorate into a major Law and Order situation.
The crisis should be resolved to the satisfaction of the Residents and the medical profession of West Bengal. IMA proclaims solidarity with the Resident Doctors of West Bengal and appeals to the Government of West Bengal to address and resolve the issue on war footing.
"Healthcare violence has its origin in high expectations, lack of infrastructure and inadequate Human Resources. Issues of the medical profession that involves Doctor-Patient relationship, effective communication regarding the nature of illness and professional counseling play a major part. IMA expects the Government of India to provide for each of these components." He added