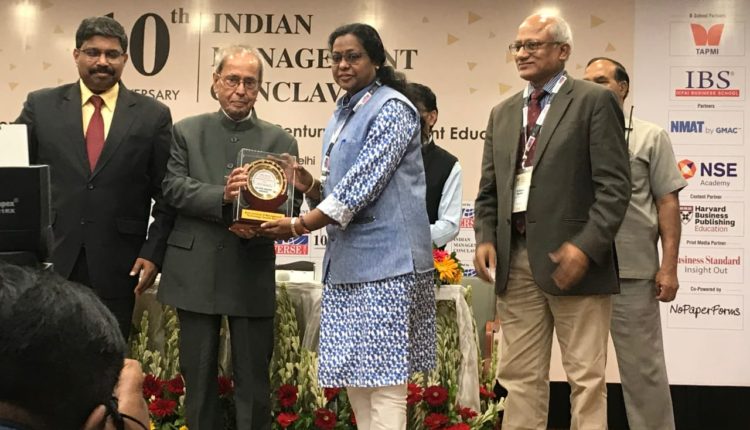 Idea of turning retd corporate professionals to faculty members brought award to BIMTECH: Dr Abha Rishi
Saurabh kumar / Baidyanath Halder
Greater Noida (07/08/2019) : On August 3, Dr Abha Rishi professor at BIMTECH got felicitated with the prestigious Silver award at 10th Indian Management Conclave-2019. IMC Awards recognized as India's most prestigious Management Education Awards. Winning initiatives have been awarded by HRD Minister, AICTE Chairman, Business icons & Published by Pearson & McGraw Hill.
More than 50 leading B-schools participated in IMC Awards this year. Top 10 Finalists, selected by the Jury, and made presentations on their initiatives on August 2-3 at IMC 2019. Under the same Dr Abha Rishi got the silver award on behalf of the entire college.
Interacting with Ten News after receiving this award, Dr Abha Rishi said that "We got felicitated for the idea (How can we get the retired corporate professionals as faculty members in management institutions and how they can be integrated into entire teaching process)"
Further, she said "It's a very big honour for a management institution to get this award as more than 100 management institutions from all across India to participate in this competition. Under this idea, we witnessed that corporate professionals are also very keen to pay back to the institutions and society."
Apart from this BIMTECH fulfilling its corporate social responsibility (CSR) has set up a school for slum children's and anyone who wants to get knowledge near at Pari Chowk metro station. The school is a beautiful space, walls decorated with graffiti and number of children's are enjoying the learning there.