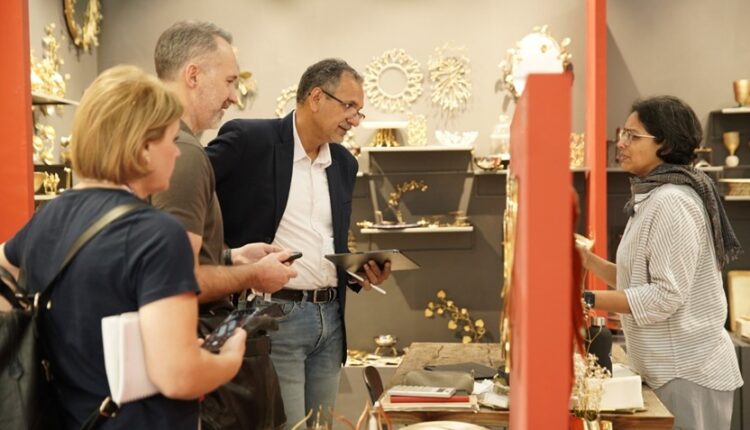 IHGF Delhi Fair 2023: Five days of hectic business activity comes to a close

Greater Noida – 19th March 2023: "The conclusion of one big successful chapter often paves way for the beginning of something promising and new. Fondly, patronized by the international sourcing community, the globally acclaimed IHGF Delhi Fair, the 55th edition of the IHGF Delhi Fair comes to a close, with its 3103 exhibitors, regional displays and a host of supporting events has culminated its 55th edition. New designs, mix materials and new age raw materials, along with sustainability have been at the fore as many buyers sought eco-friendly and compliant ranges in home and lifestyle products" said Dr. Rakesh Kumar, Director General – EPCH & Chairman. He appraised, that the dates of IHGF Delhi Fair Autumn 2023 would be 12-16 October'23, India Expo Centre & Mart, Greater Noida and 'Delhi Fair Furniture' would be held concurrently.
The 55th edition of the IHGF Delhi Fair Spring 2023 concluded with a Valedictory Ceremony and Best Display Awards with the presence of distinguished guests – Nand Gopal Gupta 'Nandi', Cabinet Minister, Industrial Development, Export Promotion, NRI and Investment Promotion, Govt. of Uttar Pradesh; and Rakesh Sachan, Cabinet Minister of MSME, Khadi, Village Industries, Sericulture and Textile, Govt. of Uttar Pradesh; Amit Mohan Prasad, Addl. Chief Secretary , Department of MSME and various senior Uttar Pradesh Government Officers. They gave away the Ajai Shankar and P.N. Suri Memorial Awards for best design and display in 12 categories and shared their thoughts of appreciation for the fair, its vast range on display and the resilience and optimism of the handicrafts industry that has made the fair a success. The ceremony was also attended by Raj Kumar Malhotra, Chairman, EPCH; Neeraj Khanna, Vice-Chairman-EPCH, Avdesh Agarwal, President, Reception Committee, IHGF Delhi Fair-Spring 2023 and Vice Presidents – Parvinder Singh, Ravindra Nath and Deepak Gupta; EPCH's Committee of Administration Members – R.K. Passi, D. Kumar, Sagar Mehta, Pradeep Muchalla, Hemant Juneja, K.L. Ramesh, Prince Malik, Naved Ur Rahman, Rajesh Jain, Lekhraj Maheshwari; Dr. Rakesh Kumar, Director General – EPCH, Award Winners, exhibitors and buyers.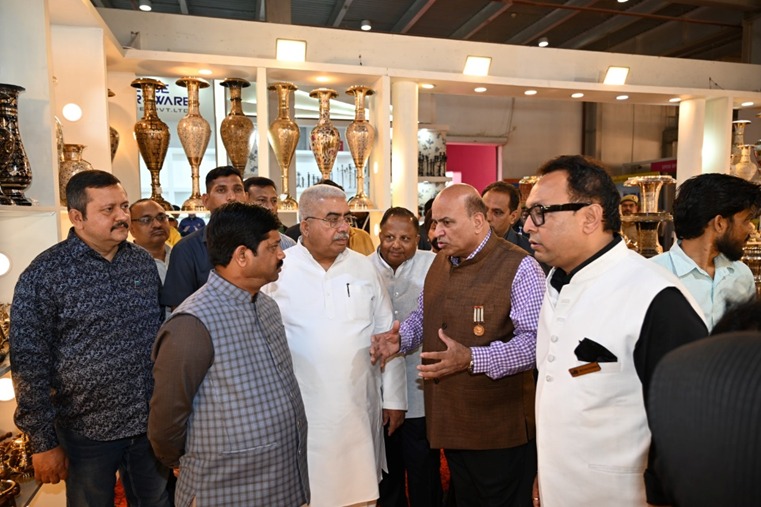 Raj Kumar Malhotra, Chairman, EPCH said, "Suppliers at the fair this time, offered more options in repurposed cast-off materials and derivatives drawn from nature. Many selected basketry and home utility made from jute, hemp, coarse riverside grass, cane & bamboo, etc. Buyers from USA have appreciated furniture in all sizes with special emphasis on textures, colours and finishes. European buyers have sourced interesting home décor, utility products and garden accessories, among other home products. Takers for textiles liked the variety of home furnishings as well as kitchen linen. Those looking for accessories like scarves, stoles and shawls have also expressed satisfaction at the options they saw. Gifts items, paper products and hardware as well as components too have offered good choice to buyers." Further to this, Dr. Rakesh Kumar, Director General, EPCH said, "Our exhibitors demonstrated the extra effort to create unique and outstanding displays to engage and entice buyers. New product innovations have ascertained more business as many have added to their buyer lists. Exhibitors at the fair have been equally inclined towards such tastes & preferences and have surprised the buyers with many possibilities as well as potential towards the next fairs."
Buyers, Jessie & Eliza from a homewares company in Australia were at the fair for the first time and were focused on bedroom products and bathroom supplies. "We have also adored the home decor products here, particularly the metal candlesticks, they're so eye-catching. These handcrafted goods from India are very beautiful," they shared. Pasten, a buyer from Holland added, "the products are wonderful in this country. The fair has an interesting variety though I am only dealing in furniture. We are working with many Indian exporters, because their use of raw material that makes the quality great."
"The fair attracted 6495 overseas buyers from 108 countries and buying representatives, as well as domestic volume buyers, resulting in business enquiries worth approximately Rs 3500 crores," said R. K. Verma, Executive Director, EPCH. "Buyers came from USA, the United Kingdom, the United Arab Emirates, France, Germany, the Netherlands, Denmark, Belgium, Sweden, Spain, Japan, Korea, Australia, Singapore, Hong Kong, Israel, Saudi Arabia, Turkey, Italy, Canada, South Africa, Russia, Brazil, Mexico, and many more," he further added.
EPCH is a nodal agency, promoting exports of handicrafts from the Country to various destinations of the world and projecting India's image abroad as a reliable supplier of high quality handicrafts goods & services. The Handicrafts exports during the year 2021-22 was Rs. 33253.00 Crores (US $ 4459.76 Million) and during April-February' 2022-23 is Rs. 28,727.91 Crores and USD 3505.84 Million informed by Dr. Rakesh Kumar, Director General, EPCH.