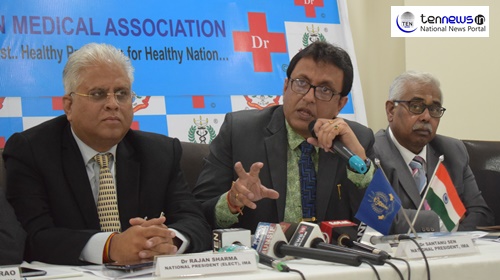 New Delhi:(03/01/2019) The Indian Medical Association (IMA) opposing the National Medical Commission Bill 2017, IMC amendments Bill 2018, and Consumer Protection Bill 2018 pending before the Parliament Today Declared that, All the Local and State Branches of IMA in the country will observe All India Protest Day Tommorow.
Addressing the Media, Dr. R V Asokan, Secretary General, IMA said,
"IMA is opposing the IMC (Amendments) Bill 2018 which was recently passed in Lok Sabha. IMA has very strong reservations in the way that an elected MCI was superseded for no credible reason and undue haste was shown to proclaim an ordinance creating a nominated Board of Governors while the election process was under way. MCI represents the plurality of opinion from multitude of institutions in our federal nation."
Dr. Santanu Sen, National President, IMA, Member of Parliament, Rajya Sabha said,
" NMC Bill-2017 aims to centralize the entire authority in the hands of Government of India. The current proposal if adopted would result in repeal of the Indian Medical Council Act, 1956. NMC  as such still remains an anti poor, anti people and anti federal legislation which if  allowed to pass will have unforeseen consequences not only on the Healthcare sector but also on the federal structure of the country."
He further said, "Reservation of medical seats upto 50% for managements is denial of equitable opportunities and is certainly anti-people and pro rich. At present most of the states have a fee fixing committee. After the implementation of NMC Bill, they would lose their power to regulate fees."
"All India Protest Day on 04/01/2019 by IMA is to invite the attention of the Parliament and the nation. All IMA members will wear black badges across the country. Memorandums will be given to all MPs in their constituencies.  All services will function normally," added Dr. Santanu Sen.