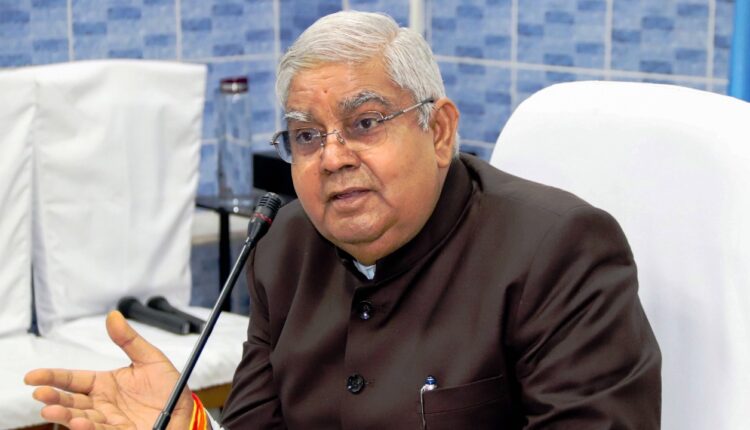 India Water Week 2022: VP Jagdeep Dhankhar set to visit India Expo Mart on 5th Nov

As per reports, the Vice President of India, Jagdeep Dhankhar, is all set to visit Greater Noida on 5th November. Dhankhar will take part in the closing ceremony of India Water Week 2022 which is being organized at India Expo Mart.
Organized by Jal Shakti Ministry, India Water Week 2022 is a platform where the government discusses, talks, strategizes with stakeholders through seminars, exhibitions and sessions to build public awareness, to get support to implement key strategies for conservation, preservation and optimum use of available water.
India Water Week was inaugurated on 1st of November by Draupadi Murmu.
Read below our full coverage of India Water Week 2022 Inauguration:
President Murmu inaugurates India Water Week in Greater Noida
https://tennews.in/president-murmu-inaugurates-india-water-week-in-greater-noida/
Successfully working on dam rehabilitation, water issues: Gajendra Shekhawat at IWW
https://tennews.in/successfully-working-on-dam-rehabilitation-water-issues-gajendra-shekhawat-at-iww/
UP Government has revived more than 60 rivers: CM Yogi Adityanth at IWW 22
https://tennews.in/up-government-has-revived-more-than-60-rivers-cm-yogi-adityanth-at-iww-22/
UP CM Yogi Adityanath Inaugurates India's First Hyperscale Data Center in Greater Noida
https://tennews.in/up-cm-yogi-adityanath-inaugurates-indias-first-hyperscale-data-center-in-greater-noida/