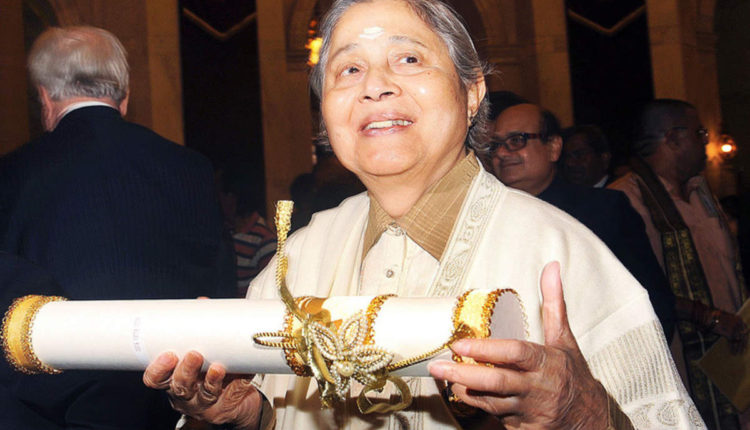 Indu Jain, Times Group's Baroness and a Spiritual Seeker, is no more
Authored By: Pooran Chandra Pandey
Indu Jain, fondly called 'Mata Ji' by those considered close to her, left for heavenly abode yesterday aged 84 leaving behind her family and countless people whose lives she invariably touched while influencing them in one way or the other. In her demise, India and the world at large, has lost a true humanist, a spiritual seeker and an assiduous patron of art, culture and literature.
Condoling her death, Prime Minister, Narendra Modi tweeted, "Saddened by the demise of Times Group Chairperson Smt. Indu Jain Ji. She will be remembered for her community service initiatives, passion towards India's progress and deep-rooted interest in our culture. I recall my interactions with her".
It is no coincidence though those tributes and condolences began to pour in nationally and globally immediately after the news of her demise broke out and became public. Countless people who have had any direct, indirect or even a remote opportunity to meet her or came into her contact carried a fond memory of their encounter with a person like her who immediately could influence anyone at the first glance itself. It was power of her persona, values and virtues that she immaculately carried and overall influence of her inner knowledge and its manifestations with practical bearings. It's understandably going to be hard for many of those to be able to easily erase the often-unforgettable memories of having interacted with her.
Her values were apparent, virtues effervescent and expressions dynamic and easy to be imbibed by those who cared for it. She was also someone who could easily connect with people leaving them to follow her in ways that immensely generated tangible results to anything that she took upon herself to accomplish.
I was fortunate enough to have had a rare privilege of being with her in a capacity to be able to contribute my own bit entirely through her vision and focus. I can only say with certainty and without any ambiguity that she played – consciously, sub-consciously and unconsciously- a major role in shaping my own persona, future trajectory – personal and professional- with staunch values and virtues while enriching my overall experience deepening some of the rare occurrences of life from a spiritual angle. I find myself a better person today in the hindsight with a close association with her in ways that I could contribute to her vision and in turn got immensely benefitted by her wisdom, rare sense of decision making, humanism and spirituality.
I recall, among many, one of the indelible instances that sufficiently lay bare her beliefs in education, sustainable development and transformational changes as key goals that she always put at the centre of her decisions.
Keeping it to her true beliefs and values of inclusiveness and compassion she embraced, she tasked me to undertake building of a higher secondary school destroyed in the earthquake in Poonch district of J& K (2008). Making it abundantly clear, she said that the school should come up quickly so that the children of the area who up until then had been bereft of their education can quickly get back to study. Education, she expressly believed was as key to community empowerment. I vividly remember undertaking the task of completing the rebuilding of the school in a record time of 8 months with tremendous support of the local government. The rebuilt school was thus finally inaugurated by the then minister of rural development of the J&K government, citing the model as 'Taj Mahal of Poonch'.
In another unforgettable episode preceding the inauguration of the school in Poonch, I called on her and requested for her permission to have her name carved out on the inaugural stone attached to the school building along with the rural development minister's name on the plaque. In her rare and extraordinary gesture, she asked me to take the full credit and get my name instead carved out on the plaque of the inaugural stone placed in the vicinity of the school building. I was rather uncomfortable and to an extent baffled. Upon my further request for her reconsideration, I can recall the firmness and compassion combined in telling me to do what she said. In the hindsight, I do not think I deserved anything like that but it's due to her magnanimity that the school in Poonch bears my name on the inaugural plaque stone, even though I have had no chance to revisit the place ever again.
She was such a marvel of a human being – firm, steadfast and unwavering- reflecting and living through both her values and virtues like a laser beam. Besides, being a very good judge of people, she was honest in her approach, compassionate and inclusive in her dealings without mincing a word about a thing she did not approve of. I personally feel having lost a 'motherly figure' whose void, at least in my lifetime, is difficult to be filled up.
Having had close and direct interactions with her while benefitting from her wise presence, genuine advice and unflinching guidance, I have a rather heavy heart and fluid eyes today and not in a position to say anything more in her fond memory and pristine remembrance.
As they rightly say, when the heart is full, words are few.
---
About the Author:
Pooran Chandra Pandey is a founding CEO of a Berlin based global think tank – Dialogue of Civilizations Research Institute, he also worked with the United Nations Global Compact and the Times of India, in senior leadership roles. Read more.