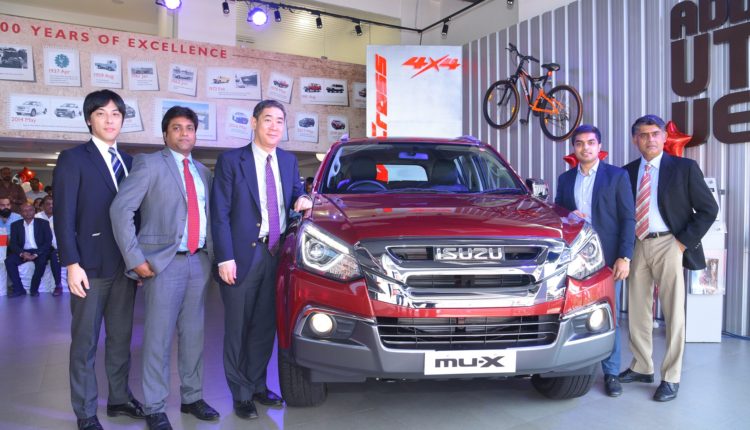 Mangalore: Isuzu Motors India expanded its network in Karnataka with the inauguration of its new authorised dealer outlet –'Cauvery Auto' in Mangalore, today. Conveniently located in the city, the new outlet will address the growing customer base in the region. ISUZU launched the new mu-X, a premium 7-seater full-size family SUV and the renowned D-MAX range of pick-ups, marking the inauguration of the new outlet.

Speaking at the inauguration, Ken Takashima, Deputy Managing Director, Isuzu Motors India, said, "ISUZU products have been receiving significant attention in Karnataka, especially on the coastal side of the state. Mangalore, being the gateway of Karnataka, is growing rapidly with export and import businesses that demand efficient hub-and-spoke transportation. D-MAX Pick-up range have proved its capability in many parts of India and I strongly believe it will continue to deliver immense 'value' to those discerning customers of Mangalore and nearby districts. The new mu-X and V-Cross will strongly appeal to many families and lifestyle-oriented customers in the region. We are extremely pleased to partner with Cauvery Auto, who will represent brand ISUZU here."
Nikhil Gupta, Director, Cauvery Auto said, "We are delighted to be associated with ISUZU, one of the world-renowned manufacturers of commercial vehicles & utility vehicles of quality and reliability. The need for efficient pick-ups and utility vehicles in Mangalore and nearby districts are significantly increasing and we see a huge potential for ISUZU D-MAX and mu-X vehicles here. With our association with ISUZU, we will continue to serve our customers with the right products and services."
Cauvery Group has been in the automobile retail business for over 20 years in the state with significant presence in Bangalore, Hassan, Mangalore, Mysore and Udupi. The group has been retailing two-wheelers, cars, premium luxury cars and commercial vehicles in the state. The company has earned the trust of many customers in the region and is known for their customer-centric sales and services.