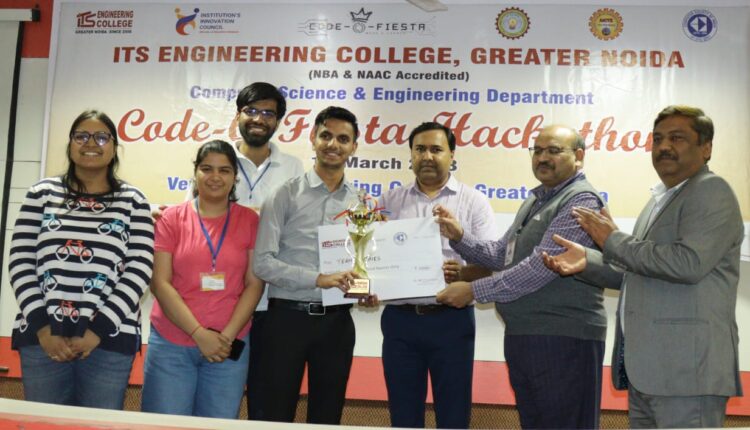 ITS Engineering College organizes "Code-O-Fiesta Hackathon"
Greater Noida, Wednesday 01 March, 2023: CSE Department of I.T.S Engineering College, one of the Premier Institution in the field of Engineering and Management Education organized a "Code-O-Fiesta" Hackathon in association with Computer Society of India, Student Branch Chapter at ITS Engineering College, Greater Noida.

The program started with a welcome speech and introduction of judges by Aditya Dayal Tyagi, Assistant Professor, CSE department. It was important to introduce the judges to the participants so that they know who will be evaluating their work and providing feedback. Judges panel was comprising of Dr. Lalit Tyagi from GLBITM, Dr. Ajay Sahu from GNIOT, and Prof. Abhishek Verma from Sharda University, which shows that the competition was evaluated by experts from reputed institutions. The organizers Dr. Mayank Garg, Director, ITSEC, Dr. Sanjay Yadav, Dean Student Welfare, ITSEC and Dr. Ashish Kumar, Head of Department, ITSEC took time to brief the judges about the plan of the Hackathon and the institute. This ensures that the judges have a better understanding of what is expected of the participants and can provide appropriate feedback based on the judging criteria.
It is impressive to see that 64 teams from various reputed colleges and universities registered for the event, which shows the interest and enthusiasm of students towards such competitions. It is also good to know that the competition was conducted in rounds, which would have provided fair chances for all the participants to showcase their skills. 32 teams were selected based on the theme, feasibility and novelty of idea for the next round of Hackathon.
It is great to hear that dignitaries are encouraging and motivating students to participate in technical competitive events. Such events provide a platform for students to showcase their skills and creativity, and also help them develop their problem-solving abilities under pressure.
Overall, such technical competitive events provide a great opportunity for students to learn, grow and network with peers from different colleges and universities. I hope the participants have gained valuable experience and will continue to participate in such events in the future.
Panel of Judges evaluated the skills and work of participating teams and selected "Introgen Monitoring" project by team Noobies for 1st position, "Digidoc" for 2nd position and "We Care" for 3rd position.  The winners were rewarded with the prize money and certificates.
Finally, Aditya Dayal Tyagi, Assistant Professor, CSE department concluded the event with a vote of thanks speech.