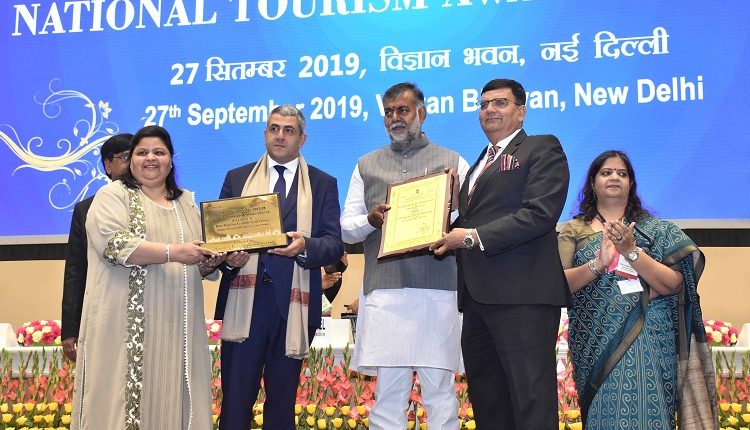 Jaypee Greens Golf and Spa Resorts awarded with Best Tourism Friendly Golf Course by Ministry of Tourism
Delhi, September 30, 2019 : Jaypee Greens Golf and Spa Resorts was recently felicitated with an honor of National Tourism Award in the category of Best Tourism Friendly Golf Course. Shri, Prahlad Singh Patel, Hon'ble Minister of State for Tourism & Culture (Independent Charge) presided over this function. The award function witnessed H'ble Ministers, Central and State Government Officials, Members from the Travel and Hospitality Industry and prestigious media.
National Tourism Awards are given to Travel Agents and Tour Operators including best Adventure Tour Operator, best Domestic Tour Operator, most Innovative Tour Operator, Best Mice Operator, Tourist Transport Operator, best Hotels in the different categories, outstanding performers in Publishing, etc. Awards are also given to the meritorious students of the institutes of Hotel Management and Indian Institute of Tourism & Travel Management.
Celebrating the success, Ms. Manju Sharma, MD, Jaypee Hotels and Resorts said, "We have consciously invested our time and effort in combining the warmth of traditional Indian hospitality, with modern systems and processes to create a truly contemporary, competitive and unique Indian hospitality brand. We feel incredibly great about our smallest contribution which is worth bringing a positive change in tourism industry.
Also, the accreditation received from the government has highly motivated us and made us more perceptive about our actions; we are planning to get some more simplified solutions which could be more helpful to create and sustain competitive edge over the competition in products and services through continuous quality improvement."