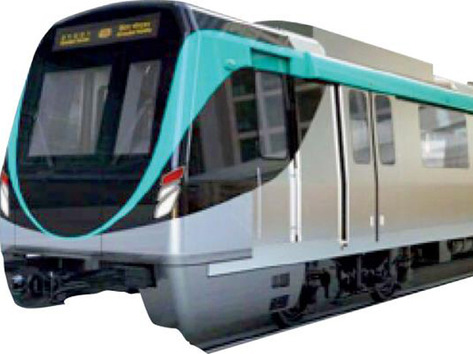 After a month Aqua metro again completed trail from depot to Alpha-II
3/2/2018
Yesterday a another successful test run of the Aqua metro line on the Noida-Greater Noida corridor has been done. Earlier a month ago the first test run was already had been done.
According to officials of Noida Metro Rail Corporation, the four-coach test train covered nearly 2.5km on Friday at a speed of 35 km per hour during the 'internal' trial. "It was the first time that the train has been tested outside the depot yard, where trials were being conducted since January 2," said P D Upadhyay, general manager (finance), NMRC who also holds additional charge of executive director, NMRC. "On Friday afternoon, the train travelled from the depot (yard) and crossed three stations including depot station, Delta-I station and Alpha-II station before it returned to the depot," he said. "All went well with the extended trial. In the next few days, we will be ready to take the train further along the track," he said.
Upadhyay said that once they receive complete power supply for the trial run, they will take the trial up to Sector 149 in Noida. "Presently, we are using an alternative source of power supply from the depot. This temporary 30 megawatt power is being provided by discom, RC Green. Once we have full power from the sub-station located at Sector 148, "oscillation trial" will be undertaken from February 15," he said.