MY FM awarded the winners of Jiyo Dil Se Awards Season IV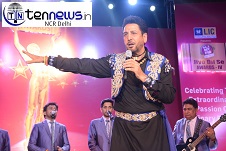 MY FM awarded the winners of Jiyo Dil Se Awards Season IV
~Gurdaas Mann enthralled the Audience at the ceremony in Chandigarh~
 Chandigarh, February 23rd 2016 – MY FM concluded the fourth edition of Jiyo Dil Se Awards presented by LIC with a glitterati evening in Chandigarh at Tagore Theatre where multitalented personality, who is far more than just a singer- Gurdaas Mann enthralled the audience with his high voltage and engaging performance kept the night alive and was a real treat for the winners and audiences. The night also witnessed performances by Ali brothers (India's got talent fame) and Sanket Bhosle (Stand-up comedian).
These awards acknowledge and recognize the work of the common man in bringing about a positive difference to the society and spreading happiness in the society at large.
 Speaking at the awards night, Harrish M Bhatia, CEO, 94.3 My FM, said "We at MY FM are very proud of how these awards are allowing and acting as an inspiration for societal betterment. The most important thing that keeps us going is the willingness of people to come forward and participate. Not only we have discovered heroes in our own society, but we have given them a platform where their work can be highlighted and recognized acting as an inspiration to millions of others. I am glad of what Jiyo Dil Se Awards has achieved in the last four years. The number of entries we receive every year is a proof of how far we have come in our journey of keeping the passion to spread happiness alive in people".
The Awards were a culmination of a tedious process which lasted for over a period of three months in which listener's nominated people who have been working selflessly for the society. The entries were then shortlisted by eminent jury and put up in public domain for voting the winners. The results were tabulated by Ernst & Young, the Process Advisor and official tabulators for the awards.
The guests of honour for the Awards night were Chandigarh Mayor Arun Sood, Home Secretary Anurag Agarwal. Other dignitaries present at the award ceremony Ritesh Bhardwaj, VP Marketing, Being Human, Mandhana Industries; Ashok Jaiswar, DGM and Marketing Communications Head Fiat, among others.
 The campaign was rolled out in all MY FM markets and received a tremendous response from across by sending in huge no. of entries. There were nine categories for participation: Education, Environment Conservation, Health & Sanitation, Public Service, Culture & Art, Sports, Women's Welfare & Empowerment, Child Care & Development and Economic Development under which people sent entries.
 Facilitating the winners, Chandigarh Home Minister Anurag Agarwal said, "I feel privileged to be here and meet such wonderful people doing some extra ordinary work. It motivates me too. It is a great initiative to give back to the society and this platform acts as an inspiration to many more people."
MY FM took a 360 degree approach to promote Jiyo Dil Se Awards using print, radio, outdoors, collaterals, and digital media to reach out to these people.
 About My FM: A pioneering brand in the radio space, 94.3 MY FM is the radio business of DB Corp Ltd. Launched in 2006, MY FM took a bottom-up approach and set up its network across 17 Tier II & III cities across 7 states, building on the strong local understanding that Bhaskar Group had in these markets. True to its brand name which signifies the emotional ownership and personalized approach of the station, MY FM has successfully established a network of 17 highly localized stations focusing on individual market preferences. Constantly evolving and innovating its offerings, 94.3 MY FM draws a keen focus on its brand philosophy of 'Jiyo Dil Se', forging an emotional connect with its listeners while continually creating offerings to suit local tastes. Capitalizing on the strengths of the medium, MY FM has become India's leading Local FM Network backed by in-depth market understating and high listenership.