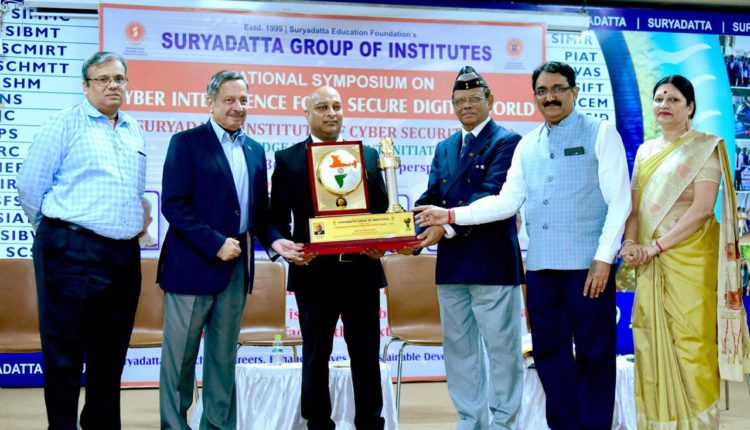 National Cyber Defence Award Given to Top Cyber Crime Lawyer of India and Thought Leader Prashant Mali :
TEN NEWS

Recently National Cyber Defence Award was Given to Top Cyber Crime Lawyer of India, Cyber Warfare researcher & Author Advocate Prashant Mali
This was conferred on this Renowned lawyer by the Hands of Air Marshal Ghokale (Retd) and Lt Gen D B Shekatkar (Retd), Vice Chancellor of Sikkim University and ex Chairman of the Committee of Experts (CoE) constituted by the Ministry of Defence to recommend measures to enhance combat capability and rebalance defence expenditure of the armed forces‬.
This was given at a National Symposium on Cyber Intelligence held at Pune, Maharashtra.
Mali said " He is proud to receive the award from the hands of both National Heroes "



Prashant Mali is a noted lawyer and his work in the area of cyber crime and cyber security which includes mass cyber awareness programs across the country. Arguing probono for victims of cyber and online banking frauds, online abuse and revenge Pornography women victims by often Interpreting the technical laws using his techno-legal skills. Going with his philosophy of imparting cyber awareness training in local languages, he has authored 8 books in English, Hindi and Marathi. Also, to be useful to Law and Encorcement agencies he has launched an free Android App named "Cyber & Privacy Laws" which is free to download, doesn't display any advertisments and doesnt require active Internet connection once downloaded.
As per feed back from police officers we spoke to, this App is a boon to police officers as it has The IT Act,2000 in English, Hindi and Marathi Languages with all recent Case Laws and Articles on cyber issues. His regular writing in Maharashtra Police Dakshata magazine, Maharashtra Governments Lokrajya & Maharashtra Ahead Magazine with other National newspapers makes his views and thoughts reach millions of people and which effectively spreads awareness.
His thoughts such as Bringing in Online Gaming Regulator, Using Data Localisation as Cyber Weapon, Having Vernacular Language Interface for Digital Payment Wallets and Intelligent ATM CCTV cameras to detect cloning devices being fitted and raising remote alarm, Having a Mute Button Mobile phone to protect Privacy etc are the most appreciated ones when it comes to Cyber Policy matters in India. His ongoing Cyber Voyage Program of visiting 101 cities having Airports to spread Cyber awareness and showcase India's air transport infrastructure is a ambitious mission to be fined in 2020.
We wish him good luck and health for his future endeavours, we sincerely feel all the Awards which is conferred in him is what he deserves .