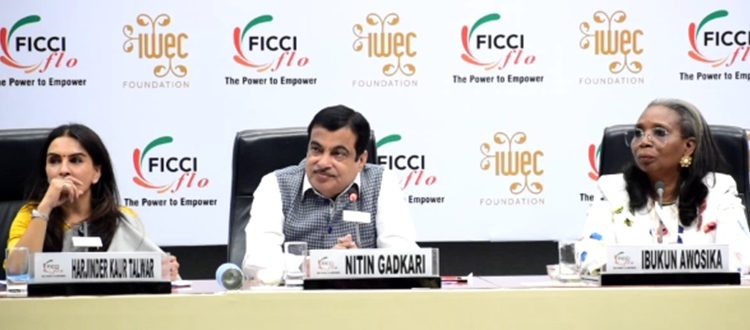 Nitin Gadkari addresses women entrepreneurs from all over the world at 12th IWEC Awards & Conference
Saurabh Kumar (Photo-Video) Lokesh Goswami Tennews New Delhi :
New Delhi: In a power packed session at Day 1 of International Women's Entrepreneurial Challenge Foundation, IWEC 2019, organised by FICCI Ladies Organisation (FLO), Union Minister Nitin Gadkari addressd over 250 women entrepreneurs from 20 countries and did a question answer round with them. In the round he answerd various queries of participants and also ensured all possible help for them by his department.
In his address, Gadkari mentioned that MSME contributes to 49% of India's total export and explained how the Government is using technology and innovations to boost the rural agricultural and tribal sectors of India through new technologies and innovations. He gave simple examples of honey and oranges being used in various products, which has resulted in the increased  production and market value of these products.
He emphasised that the international companies should look at India for setting up their manufacturing base as it will reduce their cost of manufacturing by 25% to 40% while ensuring the quality and the latest technology.
To boost the morale of women entrepreneurs in India, he announced to launch a book and website of 100 successful women entrepreneurs with FLO to show the path and encourage thousands of women willing to become entrepreneurs.
Harjinder Kaur Talwar, President FLO appreciated the Government's initiatives to boost the MSME sector and especially women entrepreneurs. She further stated that women entrepreneurs in India are not looking for reservations, rather opportunities as they are all capable enough to prove themselves.
The mood was upbeat as women entrepreneurs from across the globe are looking at India for opportunities and growth.