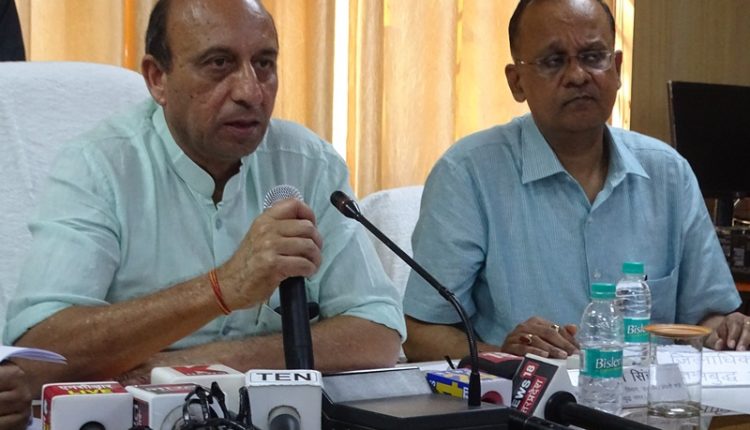 One Year Of Yogi Rule: Jai Pratap Singh Share Achievements and Promises!
ROHIT SHARMA / SAURABH KUMAR
(05/04/18) GREATER NOIDA :–
Sharing the details of one year of work by Uttar Pradesh government, Excise minister of state Jai Pratap Singh on Thursday, shared the achievements of the government interacting with the media in a press conference organized in the collectrate office in Greater Noida.
Addressing the Media, Jai Pratap Singh said that government did loan waiver of 36 thousands crore to the 46 lakhs farmers of the state. They have set new goals like to double the income of farmers in the upcoming year. This year production of kharif crops remained 37 lakh ton which is to be taken to 50 lakh ton. Soil health card will be also given to the farmers.
Under the Pradhan Mantri Housing scheme around 7 lakh 71 thousand houses are constructed and a target of 10 to 12 lakh houses will be set for 2018-19. For health sector we had sanctioned a budget of 26 thousand under which 8 new medical colleges will be opened and trauma center will be also open to provide better health facility.
As the Uttar Pradesh law and order jas always been a questionable issue for the state. so taking action for it, Government and the police officials had done a tremendous job and neutralized the mafias, gangsters and the criminals. The bounty of them are behind the bars making the state safe and secure.
In education sector we initiated strict measures in the exam conducting pattern and put a check on unfairness.. We are now going to implement NCERT syllabus to enhance the quality of education.
While discussing about the work done in the district Gautam Budh Nagar DM BN Singh told that "the biggest achievement of the district for this year is completion of the much awaited Eastern Peripheral Expressway. We had started the work for the Jewar International Airport which will give a new identity to the district.
Dedicated fat corridor a project by Indian Railway. the project prime focus is to enhance transportation technology and to increase production.
Jewar MLA, Dhirendra singh and SSP Gautam Budh Nagar Ajay Pal Sharma remained present in the press conference.