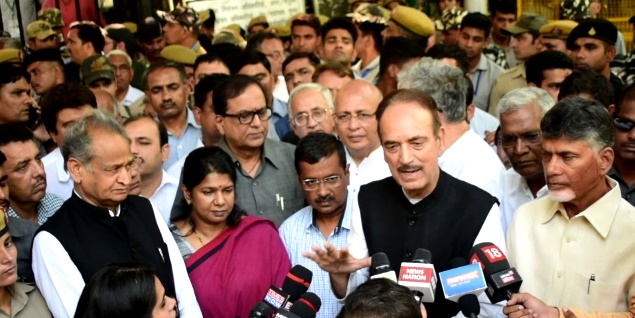 Opposition leaders demands verification of VVPAT slips before counting of votes, meets Election Commission
Talib Khan (Photo-Video) Lokesh Goswami Tennews New Delhi :
New Delhi, (21/5/2019): Prior to the results of the Lok Sabha elections, leaders of all major opposition parties, including Congress, SP, BSP and Trinamool Congress, held a meeting in Delhi on Tuesday on the issue of EVM and VVPAT. After this the delegation of the opposition met the Election Commission and handed over a memorandum to them.
In the memorandum, the Opposition leaders have also demanded 100% counting of VVPAT paper slips in all polling stations of the Assembly segment if any discrepancy is found anywhere during VVPAT verification.
The delegation of the opposition demanded action from the Election Commission regarding the match of VVPAT matches as per the order of the Supreme Court, and complaints related to the alleged transfer of EVM from Strongroom to many places.
After meeting the EC Congress leader Ghulam Nabi Azad said, "We raised these same issues in last one and a half months. We asked EC why they have not responded. Strangely, EC heard us for almost an hour and they assured us they'll meet again tomorrow morning to consider primarily these two issues."
TDP leader N Chandrababu Naidu said, "We are asking the EC to respect the mandate of the people, it cannot be manipulated".
During the first meeting, issues related to EVMs and VVPAT issues were discussed.
In the meeting, Ahmed Patel, Ashok Gehlot, Ghulam Nabi Azad and Abhishek Manu Singhvi from Congress, Sitaram Yechury from CPI (M), Derek O'Brien from Trinamool Congress, Chandrababu Naidu from TDP, Arvind Kejriwal from Aam Aadmi Party, Ramgopal Yadav from SP, Satish Chandra from BSP Mishra and Danish Ali, Kanimozhi from DMK, Manoj Jha from RJD, Praful Patel and Majid Memon from NCP and leaders of several other parties were also present.