Philanthropic leaders and experts came together at Global ESG Summit 2023, inspired by Ambassador Dr Dnyaneshwar Mulay's Movement Of Positivity
The Samaavesh Global ESG Summit 2023 was held on 16-17 March at the Indian Habitat Centre (New Delhi), under the guidance of Ambassador Dr Dnyaneshwar Mulay to bring together stakeholders from CSOs, Corporates as well organizations to discuss how to imbue an ESG lens into social development programs.

The program was led by team Positive Rishikumar, Mr Surinder Bakshi; Mr Anshul Alagh, Ms Chhavi Tiwari, Ms Bhumika Baghel, Mr Nishkarsh Bareja, Mr Siddharth Kapoor and Devendra Pratap Sonkar. It was jointly organized by the Council Of Royal Roots, Anantsheel Foundation under the Aegis of Movement Of Positivity.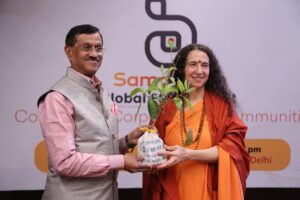 Some of the prominent leaders and guests including Chief Guest Shri Indresh Kumar, National Executive Member, RSS; Dr Sadhna Shanker, Author & Principal, DGIT; Ms Sukhman Randhawa, Partnership & Development Finance Officer, United Nation Resident Coordinator's Office; Positive Rishikumar, President, Movement Of Positivity; Anshul Alagh, CEO, Council Of Royal Roots have joined in the Inaugural Ceremony.
On 1st days of summit, our 1st theme session on theme of One District One Product had participation of leaders from the similar domain including Ms Anshu Khanna, Founder, Royal Fables (Nari Shakti Awardee); Mr Vijay Kumar, Founder, Rare Planet; Mr Shubham Pahwa, India Lead CSR, BATA India Ltd; Rani Vigyani Shekhar Deo, Promotor, Odisha Craftsmanship & Culture; Mr Safir Anand, Sr Partner & HOD, Anand & Anand.
2nd Session on Role of Tech in building outcome driven programs chaired by Mr Vishal Thakur, Head, TechForGood Initiative, NASSCOM Foundation; Mr Ujjwal Relan, Chief of Staff to Founder & CEO, Samagra Consulting; Ms Surashree, Founder, YearBook Canvas; Mr Yash Agarwal, Founder, Proficy & Public Policy India; Ms Poonam Jha, Business Professional in IT & Telecom, Actor, Model, Moderator & Cancer Crusader; Ms Mrinaal Mittal, Director, Unity Group and Mr Musaib Malik, Author (Awarded by Lieutenant Governor Jammu & Kashmir).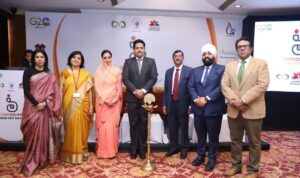 3rd Session on Indian Hunger Paradox – Abundant Food and High Malnutrition was chaired by Mohommad Asif, Executive Director, Plan India; Gautam Kathuria, Government Affairs Lead, Feeding India; Ankur Mehta, MD, Divine Enterprises; Ms Neelu Khurana, Director, QA House of Spices and Ms Avantika Midha, Philanthropist & Partner – Midha & Midha Law firm.
4th Session on Development Priorities for India Vision 2030 had special guest Gurucharan Das, Author & Former CEO, P&G India.
On 2nd day of summit, 1st Session on Building Gender Equity in CSR Programs had participation of Mrs Banita Devi Naorem, IRS; Ms Shipra Bhalla Chowdhary, Senior Director,Government Affairs, SAP; Ms Palak Khanna, Founder, Break the Ice; Ms Vrinda Khanna, General Secretary, Sant Ishwar Educational Institute and Mr Anshul Alagh, CEO, Council Of Royal Roots.
2nd Session on "Quality Education" had participation of Guest Of Honour Shri Jagannath Patil, Advisor – National Assessment and Accreditation Council (NAAC); Ms Namrata Agarwal, Director, Fundraising & Strategic Finance, Quest Alliance; Mr Anantha Krishnan B, CEO, Kalorex Group; Mr Robin Sarkar, Director, Shiksha Initiative, Shiv Nadar Foundation; Ms Nitika Ahya, Kalinga Institute of Social Sciences, on behalf of Founder Shri Achyuta Samanta.
3rd Session on "Facilitating Partnerships in CSR Ecosystem" had participation of Mr Satish Menon, Development Partnerships Specialist – USAID; Mr Shashank Mani Tripathi, Founder, Jagriti Yatra; Mr Amar Shelke, Chairman, Valveworks Industries; Mr Raju Sharma, Director – CSR, Indigo and Ms Garima Seth Founder, Boon Capital; Ms Jaya Aswasthi, Head- Employee & Labor Relations (India) & Co-Chair Women, Apple and Mr Krishna Dev Pathak as Moderator.
The closing ceremony had presence of Ambassador Dr Dnyaneshwar Mulay; Sushri Kamlini & Sushri Nalini Asthana, Padam Shri; Sadhvi Bhagawati Saraswati, Secretary-General, Global Interfaith WASH Alliance; Kapil Khanna, President, Delhi, Vishwa Hindu Parishad; Mr Amandeep Singh, Head, Akal Academy; Mr Ashok Motwani, Authore & Executive Producer of TV Program Jeewan Mooliyoan ke Paathshaala on Door Darshan over 100 episodes on Value Education and Positive Rishikumar.
The event had participation of 45+ speakers across 7 panel discussions and 2 special sessions, including participation from heads of CSR foundations, leading NGOs, and ministers in the current Government of India. The discussions was centred around various social issues, i.e., hunger, gender equity, education, skilling, CSR ecosystem as well as overarching areas such as developing a vision for India's journey towards sustainable development and fostering partnerships from the same.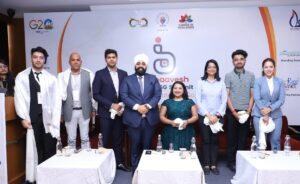 The convenor Positive Rishikumar says, 'As we all celebrate India's 75th anniversary of independence and lead the G20 presidency under the leadership of our Prime Minister Shri Narendra Modi, we envision how we can build a better, more sustainable, and equitable future. We eagerly take on the responsibility of finding answers to the most pressing challenges of our time by forming meaningful partnerships with communities and stakeholders to work toward achieving UN SDG 2030 with an approach focused on environmental, social, and governance (ESG). It is clear to us that sustainable innovation and profitable growth are mutually dependent, so our intentional focus on collaboration and inclusion helps us better navigate challenges and grow our impact to deliver positive change for the world.
The event saw the participation from leading organizations such as the National Assessment and Accreditation Council, Feeding India, United Nations, USAID, UNFPA, Plan India, Indigo, Shiv Nadar Foundation, Kalinga Institute of Social Sciences, Federation of Indian Weavers Association, NASSCOM Foundation, Kalorex Group, among others, as well as organisations working in the last mile. There was a special section of the program dedicated to providing a space for NGOs to present their projects to a group of philanthropists as well as CSR foundations and seek funding to support for new projects.