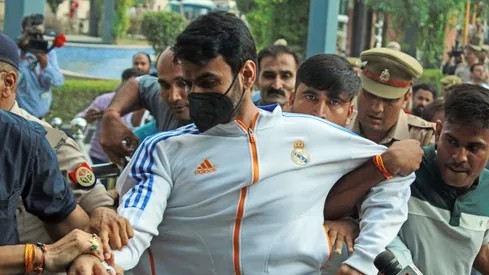 Post arrest, Shrikant Tyagi calls victim his 'sister', alleges of political conspiracy
Ten News Network
Noida, 10th August 2022: Noida's infamous Srikant Tyagi, who was seen hurling abuses and assaulting a woman in a Noida Society, was captured on Tuesday after a four day chase.
Tyagi was captured from Meerut after government announced a reward of 25,000 on him. He was brought to Noida, where a local court then sentenced him to 14 days in judicial detention.
Outside the court, Tyagi spoke with reporters and stated, "I apologise for the incident. She is like my sister, and it is an attempt to destroy me politically."
Last week, a resident of a housing society in Noida's Sector 93 was captured on camera being heckled and abused by Tyagi. She had complained about the planting of palm trees next to his residence as a rule violation.
Meanwhile, during the investigation police also found that Tyagi was driving around with an MLA sticker on his car, which was later claimed to had been given to him by Uttar Pradesh lawmaker Swami Prasad Maurya.
Moreover, Shrikant Tyagi was utilising a series of VIP licence plates that cost at least one lakh rupees each and were distributed by the Lucknow transportation department.
Addressing the press after Tyagi's arrest Noida Police Commissioner Alok Singh informed that the main challenge in apprehending Tyagi was that he was continually switching up his location and mobile devices, in attempt to mislead teams.
"When the video first went public, Tyagi sought to leave for the airport. He next travelled to Meerut. He changed his devices all night. Then he travelled to Rishikesh and Haridwar. He stayed there for a while before returning to UP. During this period, he switched his device once more," Singh said.
Twelve police teams were sent out in a manhunt to find Tyagi, according to the authorities. The senior cop also reiterated a "zero-tolerance policy" against crimes against women and children.