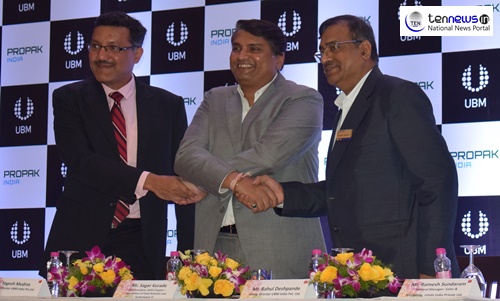 New Delhi : UBM lndia, India's leading exhibitions organiser is all set to host the first edition of the ProPak lndia expo, catering to India's ever growing processing and packaging industries. It aims to bring a comprehensive market overview and a conglomeration of internationally renowned professionals from India and overseas.
ProPak, three day expo is going to start from August 30 to Septemer 1 2018 at India Expo Mart, Greater Noida.
ProPak India will bring to industry players an entire array of products and solutions pertaining to food ingredients, processing, technology and packaging under one giant umbrella.
The show will host over 80 companies offering products and services in automation, testing and measurement, filing and sealing machinery, cartooning machinery, thermoforming, robotics, storage and transport, materials and consumables, and complete production lines along with allied services.
The Packaging Industry is expected to grow from $32 billion in FY 2015 to $73 billion in 2020. The industry is forecasted to grow at 18% annually (flexible packaging at 25% and rigid packaging at 15%). Increasing organized retail and the boom in E-Commerce are also major growth drivers for the Indian Packaging Industry. Its exponential growth has resulted in thousands of packets being delivered every day across the country and this demands quality packaging of the products. Changing consumer lifestyles towards ready-to-eat products are driving growth of flexible Packaging, with food itself accounting for 38 % of the flexible packaging market.
Speaking in the launch, UBM India Managing Director Yogesh Mudras said, "Packaging serves the Indian economy by preserving quality and lengthening the shelf life of innumerable products from food, to drugs and medicines, to processed and semi-processed foods, fruits and vegetables, edible oils etc, besides several other appliances and industrial machinery. Despite an impressive growth rate of 15-18 % annually, India's per capita packaging consumption is extremely low at less than 4.3 kg, compared to countries such as Germany and Taiwan where it is 42 kg and 19 kg respectively, revealing the immense scope and potential in this domain. "
Unlike corresponding expos in the sector, ProPak India will cater to packaging and processing in multiple sectors such as food, beverages, pharma, cosmetics, personal care and hygiene. In this, the expo will capitalize and derive value from UBM India's strong foothold in the food, beverages, pharmaceuticals and cosmetics verticals with leading industry events such as lnnopack F&B, lnnopack Pharma, CPhI P-MEC India, and Cosmoprof India.
Alongside the exhibition, ProPak India 2018 will also feature an engaging and interactive conference on "New ways to promote healthy consumption, Fight counterfeiting and Engage consumers" conducted by Active & Intelligent Packaging Industry Association (AIPlA) interactive sessions by World Packaging Organisation (WPO).
Experts from Industry will also share their view on Economic Impact of Trade Barriers on Indian Food Processing Sector and Novel Ideas for Start-up in Food Processing & Packaging Sector" that will help the show bridge the knowledge gap and offer many facets of the industry that are waiting to be tapped upon.