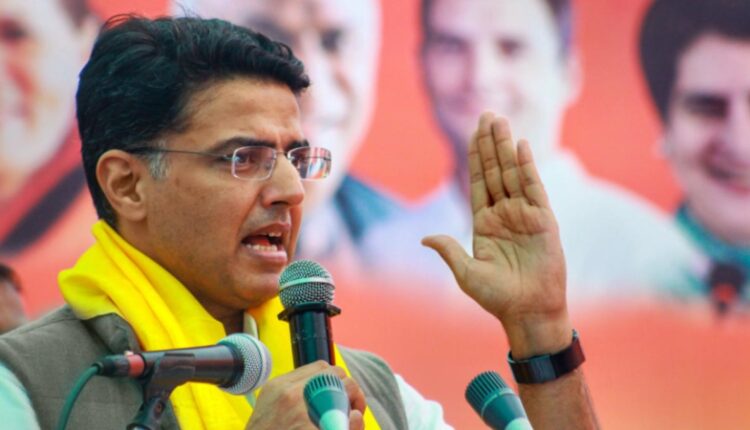 Sachin Pilot tears into BJP IT Chief's Claims Regarding Father's Involvement in Mizoram Bombing
Ten News Network

New Delhi, August 16, 2023: Rajasthan Congress leader Sachin Pilot has unequivocally challenged the claims made by BJP's IT cell head Amit Malviya, who contended that Rajesh Pilot, Sachin Pilot's father, participated in the bombing of Mizoram's capital Aizawl in 1966.
In a firm rejoinder, Pilot clarified, "Your assertions are founded on incorrect dates and erroneous facts. While my late father did drop bombs as an Indian Air Force pilot, it was during the 1971 Indo-Pak war in the region of erstwhile East Pakistan—not in Mizoram on the alleged date of March 5, 1966."
Pilot underscored the chronological accuracy of his father's commissioning into the IAF, affirming that Rajesh Pilot became a commissioned officer on October 29, 1966. This clarification follows Malviya's tweet suggesting that Rajesh Pilot and Suresh Kalmadi were responsible for the 1966 incident and subsequently transitioned to the Congress party and ministerial roles.
Prime Minister Narendra Modi had referenced the 1966 episode during his response to a no-confidence motion in the Lok Sabha, critiquing the Congress for the purported bombings.
In reaction, Congress spokesperson Jairam Ramesh accused the PM of succumbing to "mischievous distorians" and labeled his criticism of Indira Gandhi's handling of the Mizoram situation as "lamentable." Ramesh emphasized that Indira Gandhi's strategic decisions culminated in the signing of a Peace Accord in 1986, ultimately strengthening India's unity in Mizoram.