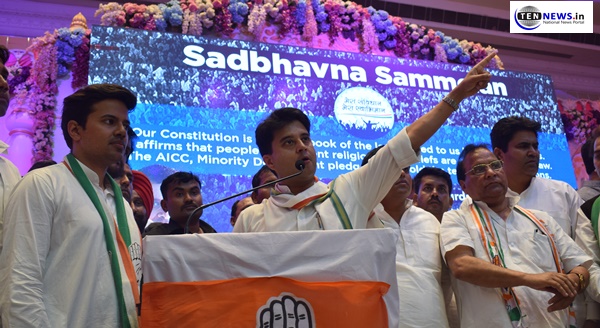 Star campaigner Jyotiraditya Scindia campaigns for Congress candidate Dr. Arvind Singh in Noida, lashes out on BJP
Talib Khan / Jitendra Pal - tennews
Noida, (7/4/2019): Campaigning is picking up in western Uttar Pradesh with star campaigners of every party trying to reach every nook and corner of the 16 Lok Sabha constituencies going to poll.
Today, Congress party organized Sadbhavna Sammelan in Noida. Jyotiraditya Scindia, General Secretary of AICC western UP campaigns for Congress candidate Dr. Arvind Kumar Singh, followed by a public meet in Khurja.
Several groups associated with Congress party including Youth Congress members and Minority Committee members attended the event in large numbers.
Addressing the people present in Sadbhavna Sammelan, Jyotiraditya Scindia lashed out on BJP and said "the BJP has divided the country in the name of religion, the kind of hatred they are spreading in the country is pathetic. Every farmer is against them and the BJP does not even consider them to be an issue. Fake promises made by the BJP has shown their ability of 'Jumlebaazi'.
The condition of youths in our country is decreasing day by day and no possible solution have been made by the BJP to overcome the problem of unemployment".
Speaking against the sitting MP of Gautam Budhha Nagar, he said, "since the BJP has took over in Uttar Pradesh, the engine of industrial development, Noida is stopped. Development in Noida is the least in the last five years".
I urge people of Noida to don't make the mistake again which we have made 5 years ago and rule out BJP from the area for the better future".
Arvind Kumar Singh, Congress candidate for Gautam Budhha Nagar constituency, speaking at the event said, "We have a 17-point agenda for Gautam Buddh Nagar, including jobs, farm distress, flat buyers' issues, private school fees regulation and women safety among priorities".
"We will have 30 per cent reservation in jobs for local candidates. There are several skilled, qualified young men and women without jobs because companies don't hire them for being local. We need to tackle this,".
He also wants Swaminathan Commission recommendations on farm issues implemented. "Farm distress is a major issue in the region. People's lands have been acquired, their compensations are either pending or are inadequate. The MSP (minimum support price) for crops is low, the situation needs to be improved."
While the promises made by the Congress seems to have a connection to the issues Noida people are having, but the fate of young politician remains in the hands of the people and it will only be decided at the results day that how much he have persuaded the people of the district.