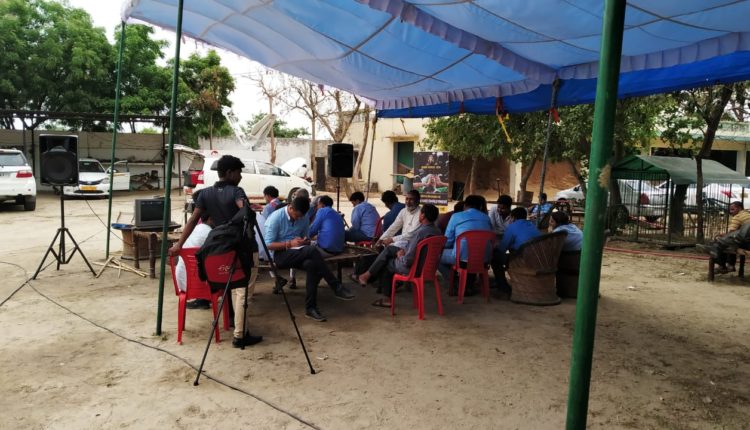 Swaraj India Chief Yogendra Yadav declares Union Budget 2019 a non-serious budget!
Saurabh Kumar / Baidyanath Halder
Greater Noida:  Finance Minister Nirmala Sitharaman today presented Modi Government's first Budget in the second term in the form of traditional bahi khaata (account ledger). As the agriculture sector has a lot of expectations from the first budget of Modi government 2.0 as the government has said that Gaon, Garib and Kisan are the focus will be in focus.
So for analyzing and discussing the key points of budget decisions called #KisanKaBudget got organized by Swaraj India President Yogendra Yadav at Safipur village under sector 148, Greater Noida. During the meet Farmers and Farming, Activists Expressed their views on the Union Budget 2019.
"This not a budget speech at all as a budget speech specify that this is what we will and this amount will be allocated for it. In the entire budget speech there is no budgetary allocation. She spoke of Zero budget farming I think it's a zero budget speech as there is zero allocation. Issues like economic slowdown, depriving GDP, increasing Unemployment rate things that came out in economic survey were not talked off, it feels like a survey is of different country and budget of a different country." Said Yogendra Yadav while sharing his views on the budget.

A farmer from the same village interacting with ten said "This budget is very disappointing, we had lot of hopes from the government but it dint got fulfilled. Government is talking about MSP for crops but how much of us got it only 20 to 25 % of farmers get it. I think law should be made under which farmers can decide the rates of their crops."
This union budget Nirmala Sitharaman made some big-bang announcements for rural India, including zero-budget farming. It considered 'zero budget' because costs of raising the main crop are offset by the income that farmers earn from intercrops. Under this method, chemical fertilizers and pesticides make way for locally available cow dung and cow urine, jaggery and pulse flour. It's currently in practice in Andhra.