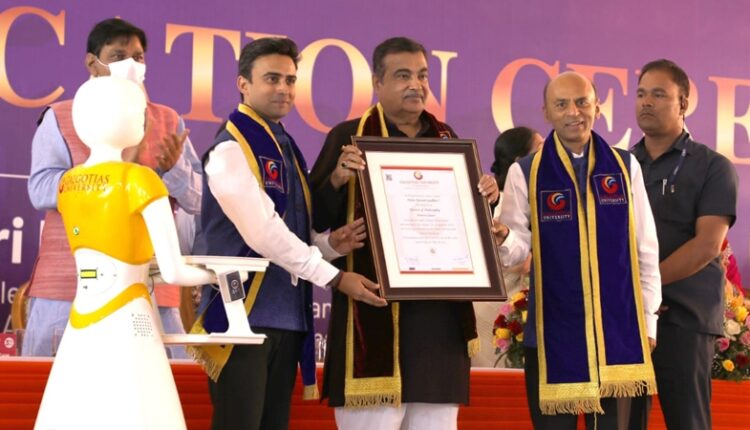 Tech forward: Galgotias University's AI-based Robots Confers Degrees to Graduating Class of 2023
Ten News Network
New Delhi (India), March 22, 2023: Galgotias University's School of Computer Science Engineering made history yesterday by introducing their AI-based automated robots to confer degrees to the graduating class of 2023. This innovative approach was the first of its kind and marked a major milestone in the field of robotics and artificial intelligence.

The ceremony, held in the university's grand auditorium, was attended by distinguished guests and faculty members. The graduating students were thrilled to receive their degrees from the advanced robots, which added an extra element of excitement to the already momentous occasion.
The robots, equipped with a 7-inch tab and magnetic strip navigation, navigated through the crowded hall with ease, avoiding obstacles and ensuring a smooth and efficient procession. Their ability to interact with the students, providing them with valuable information and guidance, was truly remarkable and further emphasized the exceptional capabilities of these machines.
In addition to conferring degrees, the robots also served as information kiosks, providing visitors with details about the university and its various programs. They also entertained the guests with their multi-functional capabilities, showcasing their ability to carry a load of up to 10 kg and maneuver through the environment at a speed of 0.4 m/s.
The use of these robots at the graduation ceremony was a testament to Galgotias University's commitment to technological innovation and its forward-thinking approach to education. The students from the School of Computer Science Engineering have truly outdone themselves with this revolutionary invention, and their hard work and dedication have paved the way for future advancements in the field of robotics.
The AI-based automated robots from Galgotias University have not only impressed with their remarkable specifications and multi-functional capabilities but have also made history by conferring degrees on the graduating class of 2023.
This innovative approach has set a new standard in the field of robotics and artificial intelligence and is a testament to the university's commitment to excellence in education and technological advancement.