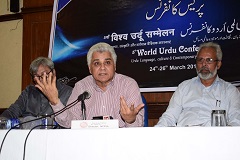 New Delhi, March 23: NCPUL is going to organize its fifth World Urdu Conference shortly.  The inaugural session of the Conference will be held on 24th March at 10.30 A.M. in The Ashok Hotel at Chanakyapuri, New Delhi. Subsequent sessions will be held on 25th and 26th March in SCOPE Auditorium at Lodhi Road. As in the previous conferences, cultural programmes will be organised from 6 P.M. onwards. Noted sufi singer Indira Naik of Mumbai will present Sufiana kalam on 24th March, an international Mushaira will be held on 25th March and famous play 'Main Urdu Hoon' directed by Athar Nabi (Lucknow) will be staged  on 26th March. Entry for the inaugural session will be by invitation only.
There are lots of problems being faced by the humanity in today's world. These include poverty, violent conflicts, migration, refugee's influx, regionalism, health issues, nuclear proliferation, child labour, malnutrition, global warming, climate change, atmospheric pollution, war crimes, racial, religious discrimination and terrorism which are posing a great threat to the humanity. The fact is that most of these problems are discussed and debated by the concerned scholars in national and international fora by our scholars and intellectuals to find out some solution. Our Urdu scholars are no exception as they are also actively engaged at different levels to address these most important issues. Some of these problems are ofcourse, the products of globalization which are very well expressed and reflected in the  creative works of Urdu poets and writers in different genres including poetry, fiction and drama etc. The literary writings are replete with the description and abhorrence against the present disturbing social, Psychological, economic and cultural trends in our society. Terrorism has received special attention of our Urdu journalism and a concerted effort is being made through thoughtful writings to get rid of this very dangerous menace in our times.
Our Urdu poets, novelists and journalists are committed to world peace, gender equality and are determined to confront all forms of injustice meted out to the people in our age. A lot of writings have come into existence as the Urdu press and media consider it their bounden duty to play a positive and proactive role to sensitise people about the present looming spectre. However, it's a fact that there is less awareness and appreciation of the laudable  achievements of this language over a period of time. Now to apprise people about the universal role played by the Urdu, the NCPUL is organising its Vth World Urdu Conference on the broader theme-The Urdu Language, Culture and the Current Global Issues. In the present globalised world the world problems at different levels shall be addressed and debated at length. The purpose is to apprise people of the vital role. Urdu language has played to address wide ranging global issues. There is no doubt that in multiple genres of Urdu, the universal vision and values have always been brought forth in a quite reflective manner, which must be brought to the attention of every body.
In this Conference, all the relevant issues concerning our society and people all over world shall be discussed and debated. Specially the diversities and existing differences will occupy our attention in the deliberation. Inter cultural issues, differences, similarities as well as pertinent, social, political issues will also be a part of the discourse  in the forthcoming World Urdu Conference. It will unable people to have a clue of the wider concerns of Urdu writers, creatively reflected in their literary writings. The sub themes of these World Conference will definitely focus on various problems and shall come out with a true picture of the Universal vision as reflected in Urdu literature. It is hoped that feminism, sufism and world peace as a vital narrative in literature, and Urdu journalism in our times will be thoroughly discussed and debated in the Conference.
The main purpose of the Conference is definitely to highlight the relentless efforts put in by the Urdu scholars and intellectuals world wide to establish peace and happiness in making this global village a wonderful place for the mankind.