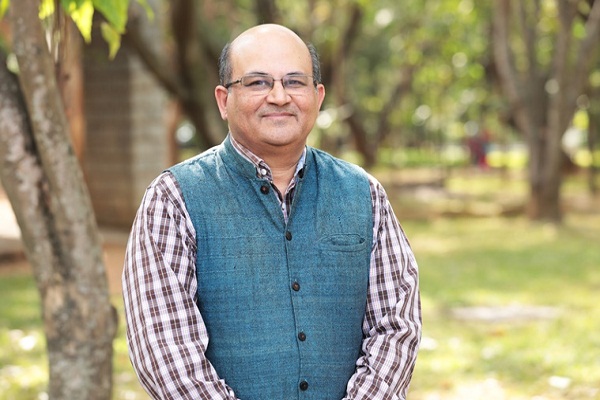 Triumphing domestic markets not enough, firms need to be globally competitive for an Atmanirbhar Bharat: IIM-B Director at BIMTECH's 33rd Foundation Day
2nd October, Greater Noida: Birla Institute of Management Technology celebrated its 33rd Foundation day today which was marked by a special address on "Innovation and Atmanirbhar Bharat" by Dr. Rishikesha T. Krishnan, Director, IIM Bangalore.
In his welcome address, BIMTECH Director Dr. H. Chaturvedi paid homage to Mahatma Gandhi, Lal Bahadur Shastri, BIMTECH founders late Basant Birla and Sarala Birla and also late G.D Birla, the founder of Birla group who was a close disciple and a family friend of Mahatma Gandhi.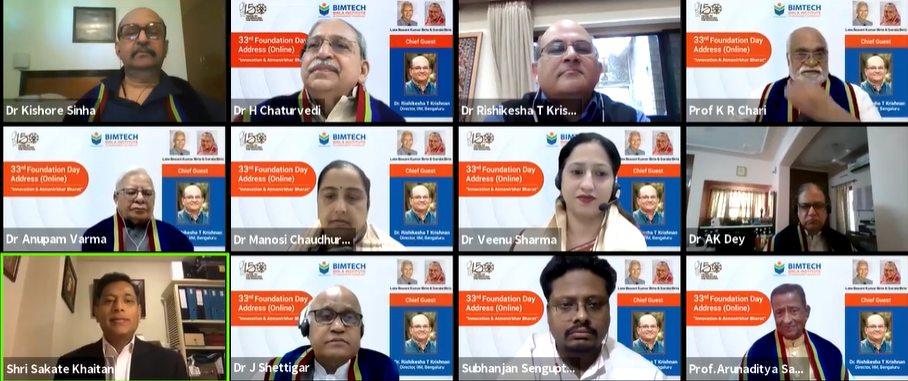 While delivering his special address on the theme "Innovation and Atmanirbhar Bharat", Dr. Krishnan said that the Atmanirbhar bharat is more than just making things we need domestically. It means that we have to be competitive not only domestically but also in the global context.
Dr. Krishnan illustrated his point with a set of examples from the Indian motorcycle industry.
Dr. Krishan said that Indian motorcycle industry was one of the first industries to be opened up for foreign investment in 1980's. Today Indian motorcycle industry is the largest in the world with 40% share in global volume. Indian OEMs account for almost 77% of this share.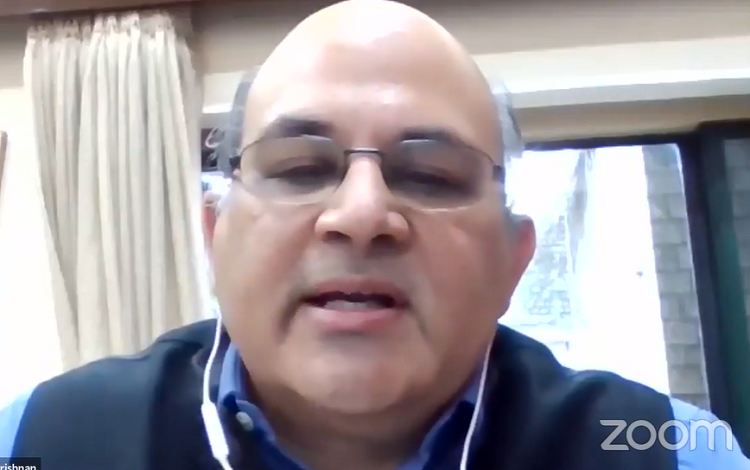 "Even after separating from their Japanese counterparts, the Hero MotoCorp managed to retain a significant share along with Bajaj and TVS. The key thing is that the Indian OEMs have been able to chart their own destinies without their esrtwhile partners."
Hero MotoCorp remains the world's #1 two wheeler manufacturer.
"The creditable performance of the three Indian two wheelers OEMs can be attributed to the internal capabilities they have developed in manufacturing, technology development and a deep understanding of the Indian psyche."
"Few areas where Indian motorcycle companies have consistently done extremely well are excellence in manufacturing and quality, developing vendor ecosystem in India and R&D and product development."
"The Indian motorcycle companies have also built strong collaborations with the academia."
Dr. Krishnan said that even though Indian OEMs like Hero MotoCorp, Bajaj and TVS have triumphed the domestic market, they haven't been as successful in developing products for more sophisticated global market.
"If Indian companies want to be backbone of Atmanirbhar bharat, they need to build a systematic innovation capacity which includes building a pipeline to generate ideas, improving idea velocity (through building processes which take your ideas forward) and removing blocks and other things that come in the way."
When asked by the moderator about whether the world is moving towards globalization or de-globalization, Dr. Krishanan said that the process of globalization which we saw starting from 1980s onwards has sought of slowed down. Globalization itself won't collapse but now the countries will take much more care and engage in better risk management, this also provides opportunities for countries like India as many top companies which were sourcing from China are looking for alternatives.
While answering another question on how India can attract companies exiting China, he said that the companies need to setup world class manufacturing facilities. The government has launched a new scheme to give production linked incentives in some of the priority industries.
"In these industries we should see some significant investment in creating manufacturing capacity."
In the next segment of the Foundation Day, awards were distributed in 3 categories – Basant Kumar Birla Distinguished Scholar Award 2019, Best Teacher Award 2019 and Best Researcher Award, 2019 and Dr. Jagdish N Sheth Best Thesis Award, 2019.
Prof. Shaphali Gupta, Professor, MICA Ahmedabad; Dr. Arpan Kumar Kar, Associate Professor, Department of Management Studies, IIT Delhi; Prof. Ramendra Singh, Associate Professor, IIM Calcutta were conferred with the Basant Kumar Birla Distinguished Scholar Award 2019.
Best Teacher Award 2019 was awarded to Dr. Amrendra Pandey, Associate Professor, BIMTECH whereas Best Researcher Award, 2019 and Dr. Jagdish N Sheth Best Thesis Award, 2019 was awarded to Dr. Subhanjan Sengupta, Asst Professor, BIMTECH.