20 teams participated in prestigious Lyceum Masterclass 2019 at BIMTECH
Saurabh Kumar / Baidyanath Halder
Greater Noida (31/08/2019) : The Birla Institute of Management Technology organized Lyceum Masterclass 2019, one of the most prestigious events in the BIMTECH calendar on 31st August.
The 'Lyceum Masterclass' provided an imperative platform to budding managers to interact with high power industry panels on current burning issues and impress them with their knowledge and presentation skills. LYCEUM is a concept which is derived from ancient Greece, where the great philosophers, such as, Socrates, Aristotle, and Plato, assembled in a designated area and interacted with their disciples through dialogues. The essential feature is the interaction between experts and novices of great potential. It is an excellent depiction of the industry academia synergy and "learning by doing" pedagogy offered at B-school.
The theme of this year's 'Lyceum Masterclass' presentations was "Managing Business in the VUCA World- Challenges and Opportunities", which is about bringing growth and economic development in the Indian context.
Out of the 20 teams that competed, five teams emerged as winners followed by five runner- ups, from their respective sectors of marketing, banking and financial services, retail, insurance and IT, and operations.
The chief guest of the event was Professor Rajiv Kishore Dubey, ex- Chairman and MD, Canara Bank, and member of the Board of Governors of BIMTECH. The event began with Dr. Veenu Sharma, Assistant Professor- Retail Management, briefing the audience about the concept of Lyceum.
The inauguration witnessed a welcome address by Dr. Anupam Varma, Deputy Director and Dean (academics).According to Dr. Varma "In this VUCA world, ability to take good and timely decisions will beat the availability of resources". This was followed by the chief guest`s address who emphasized on keen learning, self development and adaptability.
The esteemed jury of the different sectors comprised of 20 eminent big shots from the industry some of which included, Mr. Prashant Prakash Shrivastava – Vice President of Greenlam Industries, Mr. Peeyush Rawat-Vice President of Swiss Re, Mr. Ashutosh Aher- Head, Business Development at JBM Cadmium Pvt. Ltd, Mr. Gautam Kamra-GM India at Wok to Walk and many other accomplished dignitaries from the corporate world.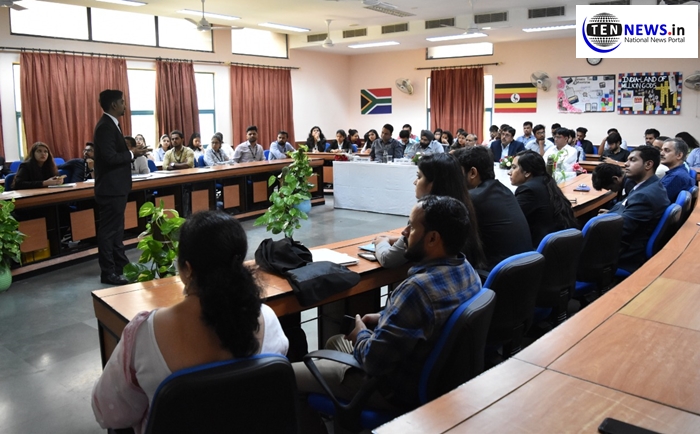 The competing teams were judged and scrutinized on various parameters like the content, communcations, feasibility etc. The event drew to a close with the felicitation of the honorable jury followed by the announcement of winners.
The winners of the Lyceum Masterclass 2019 were Vinoth Kanna A, Anurag Singh and Ruchita Yadav from retail sector, Ria Kapoor, Ridhi Grover and Mishita Jain from marketing, Vaishnavi Singh, Raashi and Shreya Rakesh from Insurance, Jasleen Kaur Thukral, Malika Chopra, Gagandeep Kaur from Banking and Finance, Lalit Nigam, Purvasha Gupta and Pooja Singh from IT& operations.
The event concluded successfully with the distribution of trophies and certificates to the winning teams by the Director, Dr. H. Chaturvedi and other members of the senior management.