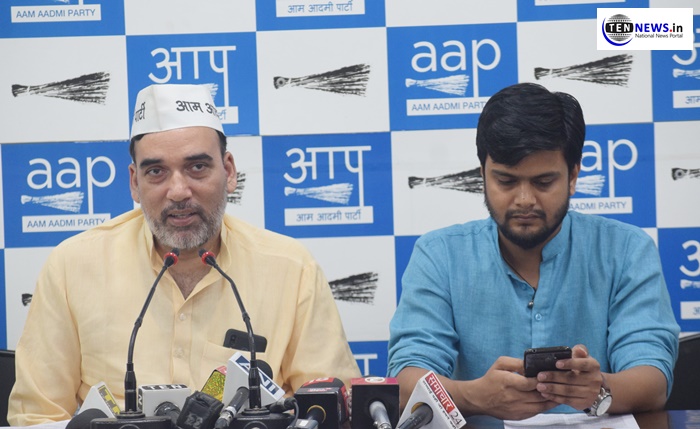 AAP Convenor Gopal Rai: 'Party will hold Jan Samvad Yatra & Miss-call alert campaign for the upcoming elections'
Vishal Malhotra / Rahul Kumar Jha

New Delhi : Keeping Vidhan Sabha Elections in focus, Aam Aadmi party convenor Gopal Rai today briefed media regarding their latest campaign Jain Samvad Yatra which started on 1st September and will be continued till October 3rd. The campaign is regarding live conversations between general citizens and MPs of Delhi.



Gopal Rai said that "this campaign is the first in its own way because in the past nothing like this happened before! It is usual for any politician to give a speech in front of heavily numbered audience but it is happening for the first time that a member of parliament is going on the streets to have live conversations with the citizens."

"From September 2nd we are going to every Delhi Vidhan Sabha part in Delhi to question delhiite several important stuff. In this Jan Samvad Yatra we are questioning every delhiite 12 major questions", Gopal Rai had said.
Few of those questions are mentioned below:
1. When BJP government came into power in 1993 in Delhi, what work did they do?
2. What positive work Congress did for delhiites in 15 years of its governance?
3. What do you think about the work done by Kejriwal Sarkar in past 4 and half years?
4. Which government is good for citizens? Is it BJP, Congress or AAP?
5. Is there any positive change because of the decisions taken by AAP in order to reduce electricity and water bill?
6. If Kejriwal loses the next assembly elections, will there be any progress in the development of Delhi?
Gopal Rai also said that Aam Aadmi Party has initiated another campaign which will help delhiites to join Jan Samvad Yatra without any obstruction. This is a miss call alert campaign in which people can give a miss call on '9871010101' and join Jon Samvad Yatra in order to support Kejriwal Sarkar for upcoming elections!