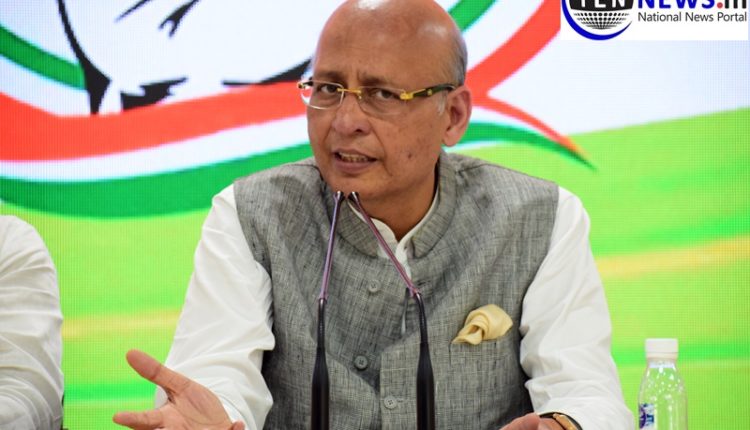 Congress happy as EC functioned on their petition, Targets BJP for using 'Ali' & 'Bajrang Bali' as publicity stunts
Vishal Malhotra (Photo/Video) By Lokesh Goswami Ten News Delhi :
New Delhi : At a media briefing today, senior Congress leader Abhishek Manu Singhvi accused the BJP of holding "distortion campaign". "Be rest assured that the distortion campaign by the BJP will be done away with… The 'right to distortion' is being brought above basic fundamental structure (by the BJP). We'll give our explanation (on Rahul's remarks) to Supreme Court," he said.
On the other hand, BJP leader Ravi Shankar Prasad said at a press conference that the Election Commission should take cognisance of Congress president's Rahul Gandhi's "chowkidar chor hai" remark against Prime Minister Narendra Modi . "When will Rahul Gandhi stop this shameless showering of abuses on our leader," said Prasad.
Singhvi at the conference focused on the speech delivered by Yogi Adityanath in which he used 'Ali' and 'Bajrang Bali' as Brahmastr.
Abhishek Manu Singhvi also said, "Those who spread hatred have been stopped by EC on our petition. Those who didn't have regard for law & resorted to dividing society, have been taken to task by EC."
Earlier today, the Delhi CEO has written to the Election Commission drawing its attention to a web series on Prime Minister Narendra Modi, which went online earlier this month and is being aired without permission from the Media Certification and Monitoring Committee (MCMC), officials said.
The move comes days after the poll panel banned the screening of a biopic on the prime minister during the current poll period, saying any such film that subserves purpose of any political entity or individual should not be displayed in the electronic media.
Meanwhile, district election officer (east) K Mahesh also wrote to the Delhi CEO asking whether the web series has been approved by the MCMC, a senior official said.