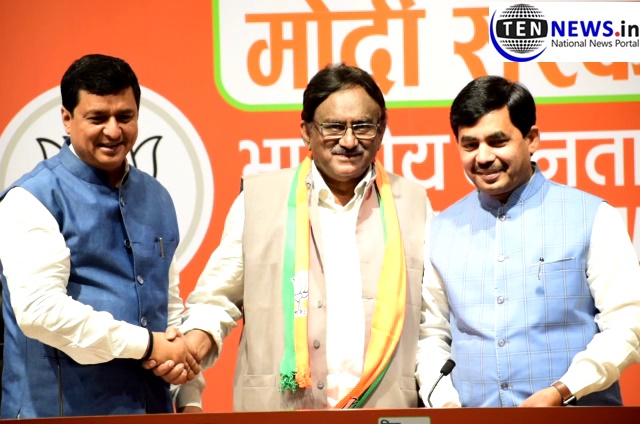 Former Union Minister S Krishna Kumar joins BJP, Says, "I devote rest of his life as a soldier of PM Modi"
Vishal Malhotra (Photo/Video) By Lokesh Goswami Ten News Delhi :
New Delhi : Former Union minister and Congress leader S Krishna Kumar joined the BJP today in the presence Shahnawaz Hussain.
S Krishna Kumar said he was against the leadership of Congress president Rahul Gandhi and his mother Sonia Gandhi. S Krishna Kumar accused Sonia Gandhi of disrespecting former Prime Minister Narsimha Rao.
S Krishna Kumar had served as a Union minister in the governments of Rajiv Gandhi and Narasimha Rao.
Krishna Kumar said he has decided to "devote" rest of his life "as a soldier of Narendra Modi".
S Krishna Kumar alleged that the Congress leadership "disrespected" Narsimha Rao and his ashes were not allowed to "even be kept at the Congress headquarters".
"Sonia Gandhi has no idea of Indian heritage and culture," Krishna Kumar said, explaining why he left the Congress and joined the Bharatiya Janata Party.
"I believe people of India should give Narendra Modi a mandate for the next 10 years," he said.
S Krishna Kumar is the second Congress leader to leave Congress in the last two days. On Friday, Priyanka Chaturvedi, party's spokesperson, left Congress and joined Shiv Sena. She too had expressed her disappointment with the Congress leadership in acting against a party leader who misbehaved with her.