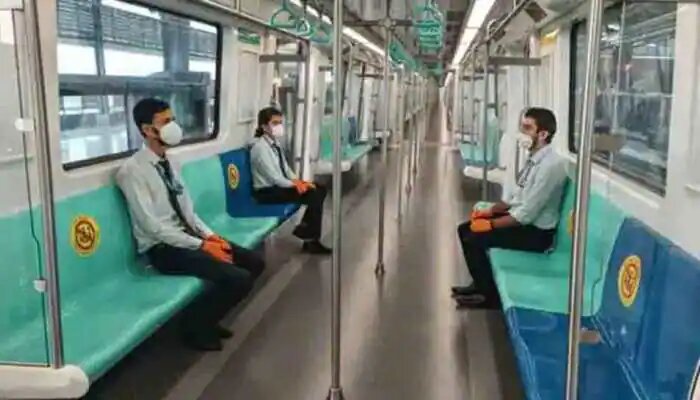 Greater Noida-Noida Metro clocks 40k ridership, makes fresh record
Ten News Network

Greater Noida, (10/08/2022): According to Noida Metro Rail Corporation (NMRC) officials, a new record was set on August 8, the second Monday of the month with more than 40k travellers opting to travel on this metro network.
The Noida- Greater Noida based metro has set a new single-day ridership record of 40,295 passengers, the most since it began operations in January 2019, according to officials.
"The Aqua Line carried 40,295 passengers on Monday. On September 19, 2019, the second highest single-day ridership was 39,451,"Ritu Maheshwari, managing director of NMRC, stated.
The metro, which connects the twin cities of Noida and Greater Noida in the Gautam Buddh Nagar district of Delhi, has seen an increase in ridership in recent months.
According to NMRC statistics, the estimated daily ridership in March this year was 23,266, while it was 26,162 in April, 29,089 in May, 30,366 in June, and 32,202 in July.
Ritu Maheshwari, Chief Executive Officer of Noida also mentioned that the Noida Metro is attempting to make various initiatives to improve services for commuters.
The NMRC recently published an expression of interest for providing last-mile connectivity to passengers. "The deadline for submitting EoI is August 18 and a walkway connecting the Sector 51 (Aqua Line) and Sector 52 (Blue Line) metro stations is also planned," IAS Maheshwari said.
"The call for tenders for the FoB between Sector-51 (NMRC) and Sector-52 (DMRC) is expected to be issued soon," She added.
The Aqua Line connects Noida Sector 51 to Greater Noida Depot Station via 29.7 kilometres and 21 stations. It cost 5,503 crore to construct as well as officially made available to the public in January 2019.