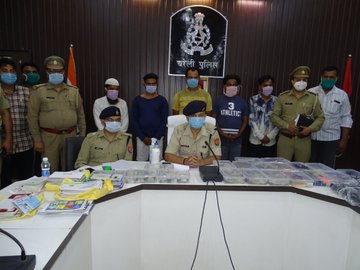 Massive gang of cyber fraudsters arrested, Mercedes, 165 ATMs among recoveries
Ten News Network
Uttar Pradesh police on Wednesday busted a large gang of cyber fraudsters and made massive recoveries from them which included a mercedes vehicle, 165 ATM cards among others.
Following the raid by Bareilly police, 16 accused were apprehended while five of these were later sent for custody.
According to officials, police had received a top that large number of people involved in cyber frauds and hawala transaction were living at Dhantia Village near National Highway 24 connecting Lucknow and Delhi.
Following the lead, a team under SP Abhishek Verma was formed and a late night raid was conducted in the village. While a massive search operation ensued in the village, 11 people were apprehended for interrogation.
According to SSP Shailesh Kumar Pandey, the gang would lure some poor people to get bank accounts opened on their details. They would later take custody of those bank accounts and use them for committing cyber fraud with other unsuspecting individuals.
Police has also recovered 165 ATM cards, 100 cheque books, 90 passbooks, 75 sim cards and 54 cell phones from the 16 accused.
While the youngest person apprehended for interrogation in the fraud case is only 17 years old, the eldest member of the gang is 56 years of age.