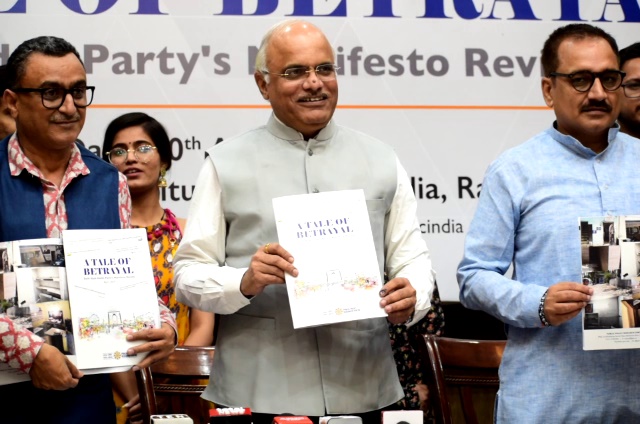 PPRC reveals 'A Tale of Betrayal' – Aam Aadmi Party's Manifesto Review
Vishal Malhotra (Photo-Video) Lokesh Goswami Tennews New Delhi :
New Delhi : Today, Public Policy Research centre released its report on 'A Tale of Betrayal Aam Aadmi Party's Manifesto Review'.
As per the report, the Aam Aadmi Party failed to deliver on all of the 70 promises mentioned in its Manifesto — '70 Point Action Plan' released ahead of the 2015 assembly elections.
Analysis reveals that out of the 70 promises made, the AAP government has failed to deliver 67 promises and 3 promises are nothing but misleading statements on issues beyond their purview. The report was released today by Dr. Vinay Sahasrabuddhe, Director, PPRC in presence of Dr. Sumeet Bhasin, Director PPRC, Virendra Sachdeva along with researchers of PPRC.
Dr. Vinay Sahasrabuddhe said that the politics of obstruction adopted by the Aam Aadmi Party government has not only created an atmosphere of pessimism for the people of Delhi but has also stalled implementation of important public welfare schemes such in Delhi. Dignitaries highlighted following key points :
Education: Work has started on only 5% of the schools whereas they claimed to build 500 schools. The performance in Higher education sector remains deplorable. The Delhi government disbursed loans to only 0.13% of the total no. of students passing out of Delhi schools. The promise of opening 20 new degree colleges remains undelivered. Upto 50% of vacancies for teaching staff remain unfilled.
Health and Education spending: Despite declarations of increased budget allocations, the truth remains that revenue expenditure like salaries is shooting up every year while much needed capital expenditure is constantly falling.
Health: 60% of the beds promised in hospitals have not been provided. The condition of PHCs is deplorable. There are no Standard Operating Procedures for PHCs due to which citizens are at the mercy of individuals rather than relying on robust institutions. AAP government has no implemented PMJAY in Delhi, depriving the Delhi residents from free healthcare.