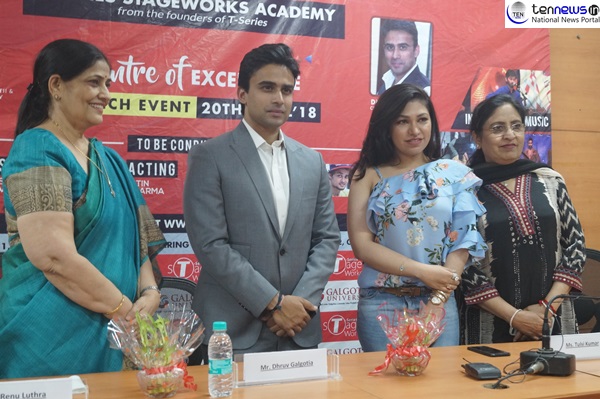 T-Series StageWorks Academy launches "Centre of Excellence' at Galgotias University to offer courses in Dance-Music-Fashion!
Ashish Kedia / Saurabh Kumar
(20/04/2018) Greater Noida :
   Coming together of two renowned institutions in the field of media education marks the beginning of new era for the students in the arena of performing arts. T-Series, India's number one Music label and Production house has forayed itself into the educational wing with T-Series Stage Works Academy (TSA). T-Series StageWorks has already made a mark and earned praises from all quarters under the leadership of Director T-Series Sudesh Dua, Singer/Director Tulsi Kumar, and Director T-Series StageWorks Hitesh Ralhan. Resonating in the same frequency the Galgotias University, India's top leading University is a known name in the education circle under the leadership of young and dynamic CEO Dhruv Galgotia.
   T-Series Stage Works Academy launched its Centre of Excellence at Galgotias University, Greater Noida to train and groom young & budding talents in the field of Singing, Acting, Dance, Modelling, Instrumental Music & Still Photography.
   The formal launch event was attended by Dhruv Galgotias, CEO, Dr. Renu Luthra Vice Chancellor Galgotias University and the Directors of T-Series StageWorks Academy Sudesh Kumari, Tulsi Kumar, Khushali Kumar, and Hitesh Ralhan. The event was also graced by eminent names from the Music & Film industry like Music Director Sanjay Vidyarthi, Super Model Jatin Khirbhat, renowned actor & producer Nitin Sharma, Prof Kalyan Sarkar, Dean, Gulshan Kumar Film & Television Institute of India, (GKFTII) and popular TV Dance reality show winner Gaurav Ghawri, winner of Dance reality show among the others.
   "Apart from Academics taking a step further Galgotias University has set up modern well-equipped infrastructure supported by benchmarked trained faculties from the music & film industry in order to nurture the upcoming fresh & raw talent in media & performing arts", said Dhruv Galgotia CEO Galgotias University.
   While complimenting Galgotias University for the opening of TSA Centre of Excellence Singer/Director Tulsi Kumar appreciated the infrastructure and facilities available to the student of University which is quintessential for the pursuance of their hidden talent. She also promised relevant exposure to meritoriously talented students.
   "Taking Shri Gulshan Kumar's dream forward, Sudesh Kumari applauded the much-needed initiative of the opening of Centre Of Excellence by Galgotias University and wished them a grant success. She also extended her greetings to Dhruv Galgotia for extending his support to fulfill this noble initiative. The Centre of Excellence at Galgotias University which is designed and fully equipped with the modern facilities is to kick-start its courses in Singing, Acting, Dance, Modeling, and Instrumental Music & Still Photography at University Campus with immediate effect.
   Dean GKFTII Prof. Kalyan Sarkar said, "With the coming of this Centre of Excellence the students will get a chance to train their hidden talent under the guidance of Industry Professionals with the best of opportunities & exposure".