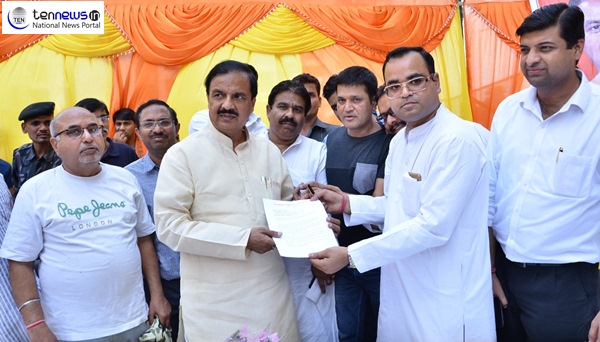 Union Minister Dr. Mahesh Sharma Discusses Public Grievances at Citizen Outreach Program at Greater Noida Societies
ASHISH KEDIA (PHOTO/VIDEO BY SAURABH SHRIVASTAVA)
Union Minister and Noida MP Dr. Mahesh Sharma was on a series of Citizen Outreach Events in Greater Noida on Friday. He visited a number of societies and listened to public grievances. Starting from Golf Gardenia in Alpha-2, the visit continued through Parsvnath Estate, Today Homes Kings Park, Supertech Czar and culminated at Ashiana Apartments.
Apartment Owners Association (AOA) members and common citizens were very vocal about their issues during the visit of the union minister. Dr. Mahesh also noted down all the issues and made sure to revert to different queries raised.
At Parsvnath Estate residents raised plethora of issues ranging from water issues to public drinking at liquor vends. One resident said, " We have water issues where bill is inflated. Also street light is not working outside society. Also Ladies feel unsafe while venturing out of the society".

Shreya Agarwal, one of the resident of the society raised the issue that under-construction building next to society is flouting NGT norms and there is too much pollution and mosquitoes because of the same. Public drinking in Omega Market is also very common where there is a liquor vendor next to hospital and it is very tough for ladies to be there.
Replying to all this Noida MP and Union Minister Dr. Mahesh Sharma, "Putting your foot in to other persons shoe is very important. I consider that in social service most important word is Empathy. I feel myself very lucky to be given charge of Aviation Minister where I immediately made sure that Jewar Airport project is resumed at great pace. This government is also making sure that Noida gets more and more gifts. Cultural Center Inauguration in Greater Noida is expected by November. In next three months the metro will be also operational. I promise that all issues raised here will be discussed with relevant authorities and necessary action will be taken".

Thereafter he visited Today King Homes which is an underdevelopment society and where about 60 families reside as of today.
The first grievance that was raised there was related to builder-buyer tussle. One of the buyer Atul Kumar Madan said, "Today King Homes project is still incomplete after so many years. In nine years only 30% project has been completed. Only 4 towers have been given for possession and rest everything is incomplete. We also think that builders lack intention of completion as very less labors are deployed at site".
Narendra Verma said, "Safety is a major concern. The power tariff in these apartments are unreasonable". Street lights issue and breakers and repair of road is also pending.
Dr. Mahesh noted down all the issues and assured that everyone of these will be taken with relevant authorities".
At Supertech Czar Project the major issue that was raised was of non-completion of about 1060 flats and villas. They also said that most of the buyers had taken loans and are now paying both interest and rent.
Minister patiently listened to all issues, he assured to do the needful in this regard within his capacity.
At all the five projects that he visited, he was greeted with enthusiasm and residents were more than happy to discuss their problems with him.